Required For
Undergraduate courses admissions
Mode of taking test
Paper-Pen Based
Official website
https://collegereadiness.collegeboard.org/sat/
About SAT Exam
About-Test
In the United States and Canada, the SAT is a standardized test commonly used for college admissions. College Board, a private, non-profit organization in the United States, developed and published the SAT. The SAT is designed to assess the literacy, numeracy, and writing skills necessary for college academic success.
Why Take the Test
Students applying for undergraduate admission must take the SAT. The SAT exam was created to evaluate students' verbal, mathematical, and writing skills. The SAT is required by students who want to enroll in undergraduate programs, especially in the US and Canada. In addition, many schools provide students with SAT scholarships in the form of cash based on their SAT results.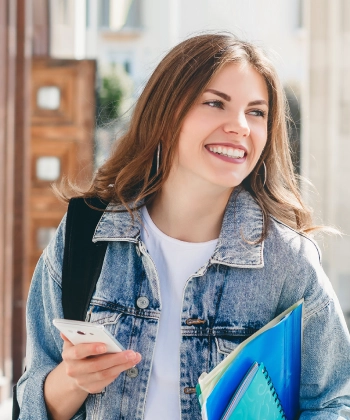 SAT Basics
Eligibility
Must have a valid passport.
General Facts
| | |
| --- | --- |
| Date and Frequency | The SAT exam is held Six (6) times a year |
| Center and Admit Card | There are around 53 centers for SAT exams across 30 different cities. Admit hall tickets must be downloaded and brought by the candidate on the test date. |
| Result | Normally, SAT results are available online 13 days after the test date. The SAT is conducted on Saturdays, and results are typically available on the second Friday after your test. You will receive an email once your result is available online. |
| Score Reporting | You can send your Official Score Report to up to four programs for free that you select at the test center before the start of your SAT exam. The College Board sends your SAT scores are generally sent to colleges within 10 days of the online score release. |
| Score Validity | 5 Year |
SAT General Training
Essay (Optional)
Questions
1
Durations
50 minutes
Score
2-8
You must use your reading, analysis, and writing skills on the SAT Essay. It's optional to give essay tests, but many institutes require it. You must read a passage and analyze how the author uses it to persuade the reader. Your justification needs to be supported.
Writing and Language Test
Questions
44
Durations
36 minutes
Score
200-800
The SAT Writing and Language Test asks you to act as an editor and correct passages that are intentionally written with errors. Each multiple-choice question is based on a different passage.
Mathematics
Questions
60
Durations
80 minutes
Score
200-800
The SAT Math section is conducted to examine students' proficiency in a variety of mathematical concepts, including problem-solving, data interpretation, and applying quantitative reasoning. The SAT covers Algebra, Geometry, Data Analysis, Arithmetic, and Functions, among other mathematical topics.
Fees
Registration Fees
USD 98.5
Test Center Change Fees
USD 30
Other Miscellaneous Fees
USD 15
GRE Exam Registration Process
You can either register online on the College Board website or you can also register via mail.
Step1

You need to sign in to your free account of College Board.

Step2

Fill in your profile details.

Step3

Select whether to sign up for the SAT with an Essay or without an essay.

Step4

You need to upload a photo that fulfills all photo requirements.

Step5

Check out and print your admission ticket.
Confused About How To Prepare For SAt?
Get help from Coursementor Live Experts
FAQs