Table of Content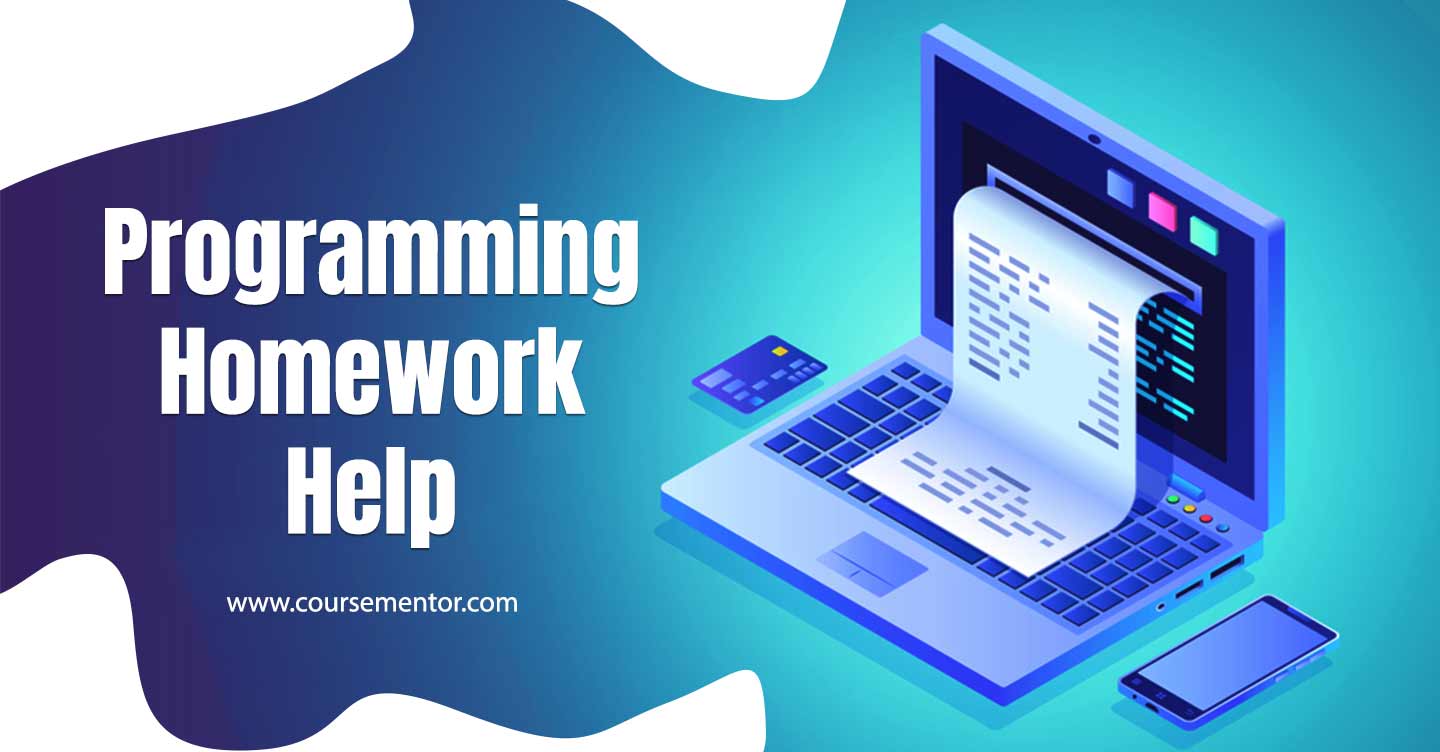 CourseMentor.com is the world of programming and learn about programming. Are you struggling with the homework of C, C++, Java, or any other programming language? Get help from our expert's coders are available for you anytime. Here we are helping with programming homework and assignments to the students.
Programming Homework Help from experts programmers:
Computer programming is the language in which we are writing computer programs. There are various computer programming languages for students such as C, C++, Java, etc. Many students find it tough to manage programming homework. It affects their marks but also knowledge of the programming language. So without a complete understanding of these programming languages, unable to show undivided interest to these assignments. While writing an assignment need to follow basis the university guidelines so that each teacher can understanding quickly to get good grades in assignments.
So you can take our Programming homework help which will not only assist you in getting good marks but also help you in understanding the programming. Get our 24/7 online assignment help. Our Programming Assignment experts also offer urgent programming homework help, for students whose assignments deadline is very near.
Our Programming homework Help will cover all the necessary data required for your programming homework. All the programs complete tested, and from these tested cases, you can understand better the program. You can ask from our programmer support to clarify any doubts concerning the programming language. Our experts would also guide you well for your exam preparation. It is an excellent opportunity to perform better in assignments with the help of programming assignment experts at courseMentor.com. But also to increase your skills with the subject.
At courseMentor.com we offering the programming assignment help service is the best among all. Our Programming Assignment Specialists have many, which helps them in writing your assignment. All the assignments are written in simple language for your better understanding. All this is necessary with every task that we take for several reasons: Those students who are looking for the most accurate and straightforward assignment with the minimum usage of complex terms.
The simpler the language used in an assignment, it is more comfortable for the student to learn and for the evaluator is easier to read the assignment.

Computer programming assignment help includes the following areas:
C / C++ Programming Help:
Are you facing trouble completing your C/C++ programming assignment? Get help from us. We have an expert team of programming who have excellent skills and experience in creating perfect C/C++ programming assignments as per your requirements.
Python Programming Help:
Our Python programming assignment services are commanded by the experienced programmers who knew with this form of programming. Get the top quality help on various features of Python programming and free yourself from the stress.
ASP.Net Programming Help:
ASP.Net programming help from our specialists who have experience with the use of this dynamic programming language. We can assist you in solving your ASP.Net programming homework within the deadline with proper use of codes.
Java Programming Help:
For learn all the essential concepts for your Java assignment? We can help you finish your programming assignment with our professional service.
Assembly Language Programming Help:
Our professional's team has experience in solving complex Assembly language programming tasks within a deadline. Get quality guidance with our Assembly programming help services and live stress.
Database Programming Help:
Our expert's team have a different approach in writing database assignment to ensure maximum output. Our experts are very efficient in solving all programming topics, whether it's on SQL, MySQL, ORACLE.
Why students need help with programming homework?
The complexity of Programming Languages:
As we discussed advanced, programming is a tricky subject. It wants a lot of focus and dedication. Programming is practical, and students must practice the concepts consistently. But most students still fail in programming because they don't understand the rules. In coding, a single mistake will make the program to return errors. Get our programming help and give our assignment specialists to clean your codes for you.
Lack of time:
If you are doing a course in programming, then you probably know how demanding the coursework is. Now a day programming in scope and but the professor has limited time to teach you everything in the syllabus. With our programming assignment help, you will get your programming assignment within a deadline. We are programming assignment gurus. We are available for you anytime to help you.
Improvement in your grades:
Every student has a different interest. Some are forced to study it because it is a necessity in their coursework. Such students are usually failing to learn because of their lack of interest in the subject. You know that all students are different when it comes to learning. Some will learn the concept in the first session, while some need more time to learn code. Most professors do not pay special attention to weak students. If programming is not your favorite subject, we will change your programming to success. The programming homework help provided by us did by professional's programmer.
Guidance and supervision:
Our advice will save you from putting a lot of tension. Your professor will give you A+ for your programming assignments if you submit effective solutions. If you want to help contact me at Coursementor.com. Students, Our experts are available to help you when you are unsure about your assignment. We will guarantee you submit an excellent assignment for your programming homework.
24/7 HomeworkHelp
Get step-by-step answers from Top Mentors
Expert Mentors
Get personalized help for your assignments from top subject matter experts
Step-by-step solution
We break it down for you & deliver the complete explanation acc. to requirements.
Fast service
We'll get you unstuck in as few as 15 minutes or within the deadline provided by you.
Get Homework Help
Why Take Our Programming Homework Help Service?
To understand why most of the university students studying prefer our programming homework help service. See the incredible features that our programming homework help offers:

Programming homework help with timely delivery.
24/7 availability of programming help from experts.
Degree-holding professionals write programming assignments.
Affordable prices with safe payment systems.
Get guaranteed of top grades in assignments.
University, doctoral, bachelors and even masters.
100% privacy is guaranteed.
Free programming language homework samples.
Unlimited free revisions.
Money-back guarantee.
Our dedication to offering you help with programming by qualified programming assignment help experts who know what your professors exactly demands in your assignment.