Canada is one of the most popular international nations regarding working. It welcomes individuals from all over the world who want to study or seek work. The visa procedure supported by immigration officials in Canada is simple and hassle-free.
Not only does Canada have affordable immigration costs, but it also has excellent healthcare help and high standards of living. If you want to get a work permit, then you have to fulfill the Canada work permit requirements.
My friend lives in Canada, and he just graduated from there. He is now working at a decent company. He says that Canada is perfect for working. He also got the work permit very easily because he had all the documents and was eligible, so he gained it fairly.
Work permits are necessary for everyone who is not from Canada and who desires to work in Canada. The Canadian government provides the work permit required for working in Canada after the person fulfills Canada work permit requirements.
At the end of the blog, there is also a list of jobs that do not require any work permit.
If you want to know more, stay tuned with us!
Do you want to apply for a non-SDS visa for Canada, then you should read our blog, "Unveil Non-SDS Visa Success Rate In 2022."
What is a Canada Work Permit?
A Canada Work Permit is a Work Visa. Canada gives work visas to promising individuals for a set limit of time. After receiving a work offer from a Canadian company, individuals can apply for a Work Visa. However, the company must get a Labour Market Impact Assessment from Employment and Social Development Canada.
Consequently, it allows them to hire foreign skilled employees for jobs that Canadian citizens cannot perform. Your physical work permit specifies the limitations of your authorization. These restrictions are mostly decided by the type of work visa you are qualified for.
Conditions may include the sort of employment you may do, where and for whom you can work, and the length of time you can stay in Canada. Every job has its own requirements that have to be fulfilled. So make sure you complete the Canada work permit requirements.
All work permit holders are forbidden from working in any establishment where there is a reasonable suspicion of sexual exploitation of certain workers. Work permit holders are not permanent residents of Canada and must depart before the end of their permitted stay.
If you want a scholarship but don't know how to get one. Then read our blog, "How to get Scholarship to Study Abroad For Indian Students?"
Types of work visas
There are various types of work visas, some of them are as follows-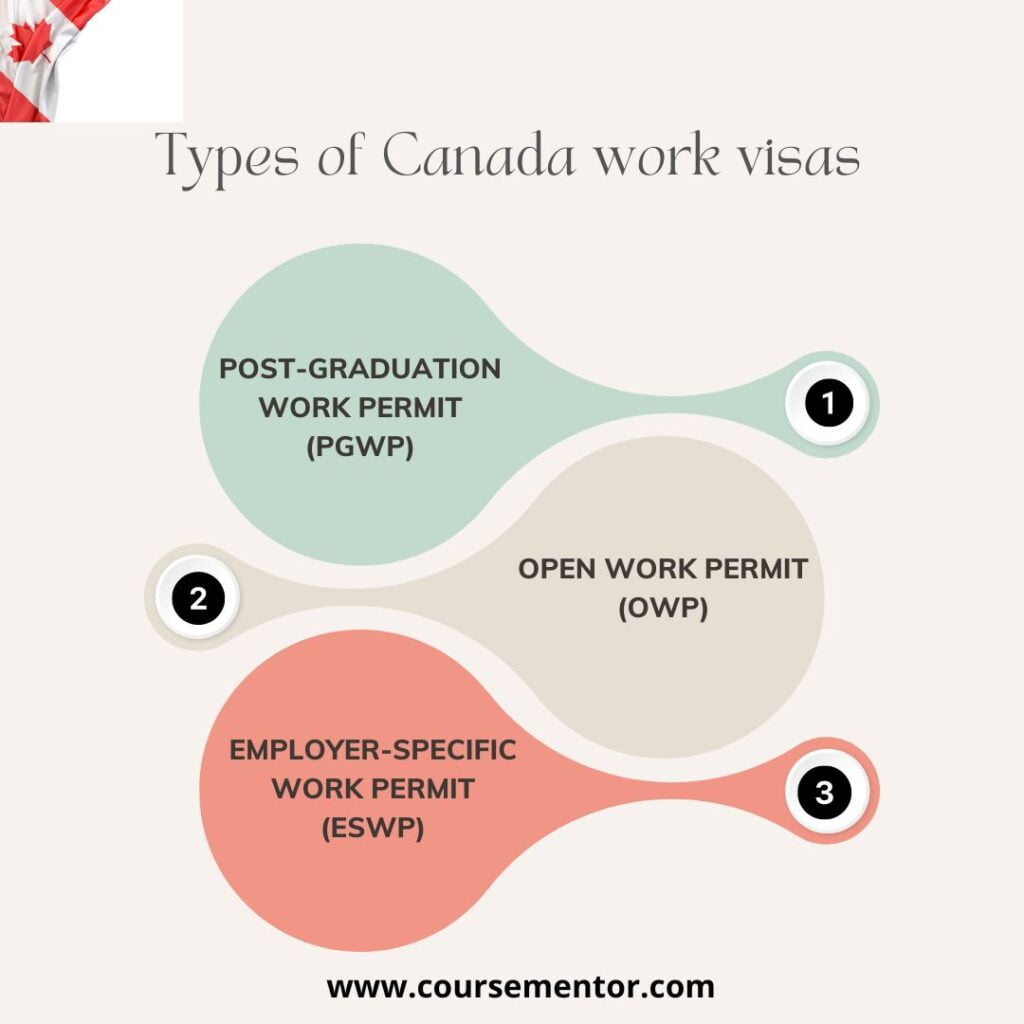 Post-graduation Work Permit (PGWP)-
After completing higher education in Canada, a student can apply for a Post-graduation Work Permit. It is an open work permit that allows students to work for any firm in Canada. Students holding a PGWP are exempt from the Labour Market Impact Assessment (LMIA) standards. It allows an employer to recruit an overseas candidate for a position in Canada.
The Open Work Permit (OWP) is a non-job-specific work permit in Canada. It allows the holder to work anywhere in the nation and for any firm. It is granted to foreign employees who arrive in Canada with a job offer.
Employer-specific Work Permit (ESWP)-
A Company-specific Work Permit (ESWP) permits an overseas worker to work for a specified employer and for a specific amount of time.
For all the above types of work visas, you have to complete the Canada work permit requirements.
Eligibility criteria for getting a Canada Work Permit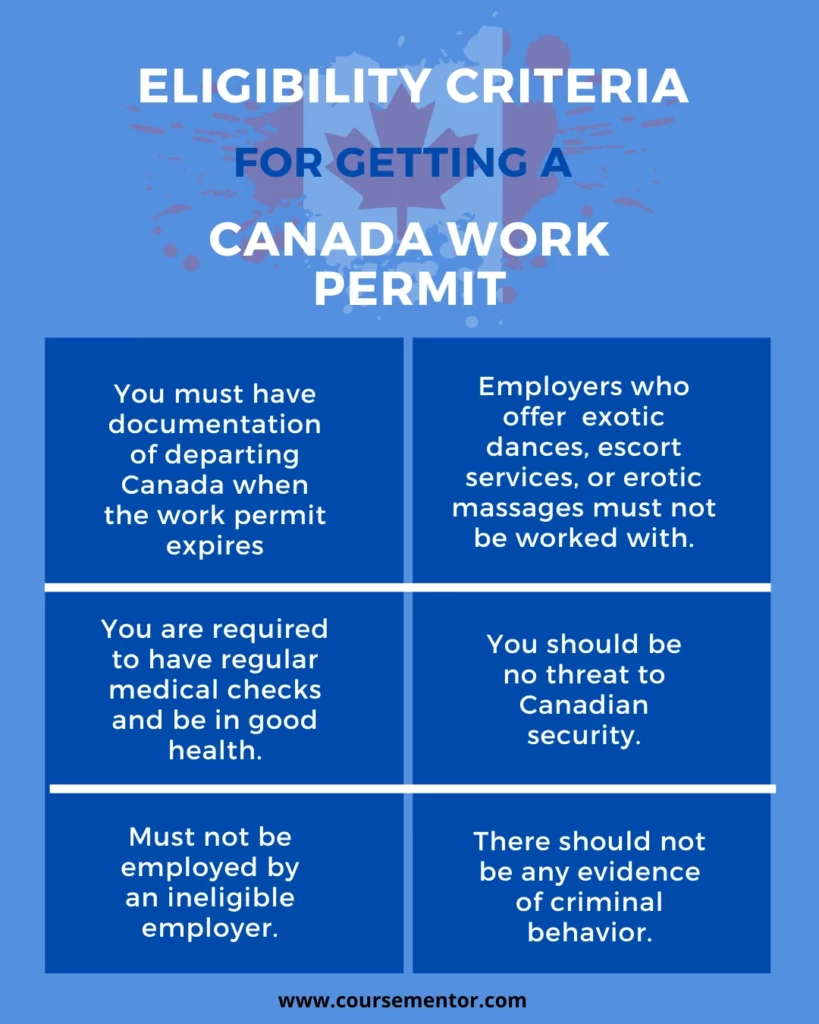 The location from which applications are filed determines eligibility for a work visa in Canada. Regardless of the kind of Canadian work permit, all applicants must fulfill the following qualifying criteria along with Canada work permit requirements-
You must have documentation of departing Canada when the work permit expires but also have proof of the needed minimum funds.
There should not be any evidence of criminal behavior. A police clearance certificate may be required of the applicant.
You are required to have regular medical checks and be in good health.
You should be no threat to Canadian security.
Must not be employed by an ineligible employer.
Employers who offer striptease, exotic dances, escort services, or erotic massages must not be worked with.
If the officer requests further documentation, provide it.
If you want to study abroad and want to know what exam options you have to get a scholarship. Then, you should read our other blog, "Exams For Study Abroad With Scholarship."
Work permit eligibility requirements if you apply for it from outside of Canada
You can apply for a work permit in Canada even before entering Canada. In this paragraph, we will discuss Canada work visa requirements if you are applying for it before you come to Canada.
You must fulfil all the visa office requirements to get a work permit in Canada before entering the country. The visa office requirements are different for every country, so your visa office requirements depend upon the country you are applying from.
You must follow all the instructions on how to apply for a work permit on the official Canadian website.
There is also a scheme of 2 week processing time for a work permit by the global skill strategy. You can check if you are eligible to take benefits from the global skill strategy scheme.
Work permit eligibility requirements if you apply for it from inside Canada
You must fulfill following Canada work visa requirements before applying for work from inside Canada.
You should have a valid study or work permit.
Your parents, spouse, or other common-law partner have valid study or work permits.
Your study permit should be valid, and you are eligible for a post-study work permit.
You must have a TR permit (temporary resident permit) that is valid for a minimum of 6 months.
Your PR decision is under process while you are in Canada.
You have claimed refugee protection.
You are recognized as a protected or refugee by immigration and RBC (Refugee Board of Canada).
You are allowed to work in Canada without a work permit but to change the job, you need a work permit.
Under CUSMA (Canada – United States – Mexico Agreement) you are an investor, trader, or infra-company professional.
Work permit eligibility requirements if you are applying at the port of entry in Canada
You must apply for a Canadian work permit even before entering the country, but you can apply for a work permit at the port of entry if you are eligible.
You must fulfill the following requirements to apply for a work permit at POE (port of entry).
If you are eligible to enter Canada while covid-19 restrictions are in place.
If you are allowed for electronic travel authorization.
Procedure to get a work permit
There is a procedure you must follow to fulfill Canada work permit requirements.
Firstly, Employers must qualify for the Labour Market Impact Assessment (LMIA) before applying for a temporary work visa. It is formerly known as an LMO. This step must be completed for the employee.
Secondly, Employers must provide the candidate with a copy of the positive LMIA and a thorough employment offer letter. The letter is a formal employment contract with vital information such as the job title, profession, income, and other details.
Thirdly, after receiving a job offer letter and a valid LMIA, candidates can apply for a Canadian temporary work permit. This may entail meeting with a visa officer to examine if the employee has a negative impact on Canadian jobs. If the individual is qualified for employment, they will be issued a Canadian work permit. And lastly, after working in Canada under a temporary work permit, individuals may be eligible for permanent residence based on their job classification and language proficiency.
The Comprehensive Ranking System is used by the Federal Skilled Worker Program (CRS). Employees are awarded points depending on their English language abilities, education, experience, age, adaptability, and planned employment. To qualify, they must score at least 67 out of 100.
Every Canadian work visa has an expiration date. Permanent residence status is the sole method to work in Canada indefinitely or for an indefinite period. The Canadian government restricts the duration of Canadian work permits and the total amount of time non-Canadians can work in Canada.
Individuals may work in Canada for a total of 48 months, whether continuously or with pauses between permits, for four years. After accumulating a maximum of four years of labour, foreign employees must leave Canada and reside outside the country for at least 48 months (4 years) before becoming eligible to work in Canada again.
If you want to know how you can study abroad for free from India, then you should read our other blog, "(10 Ways) Study Abroad After 12th for Free From India."
Canada work permit requirements: Documents and forms
Passport or travel document
Education credential assessment report
Language test results
Written job offers from a Canadian employer
Provincial nomination (if the employee has one)
Police certificate
Medical exam
Proof of funds
Some employees might wish to bring family members to Canada. If the employee is a new immigrant to Canada, his or her spouse and/or dependent children can frequently be included in a work visa application. Other family members, such as grandparents, must be sponsored to become Canadian citizens or permanent residents.
If an employee uses the Express Entry program, family members might be connected to the rest of the country. The Canada Work Permit gives an individual a golden chance to turn his life upside down. The Canada work permit requirements are easy to be fulfilled. Everything is relatively less expensive in Canada.
How much money is needed for a Canadian work permit
For a post-graduation work permit, the fee is CDN $155, you can also pay CDN $100 as an open work permit holder fee. For more information about fees, you can visit the official website of Canada (Canada.ca).
If you are applying for a student visa to Canada, you can also see the list of blacklisted colleges in Canada to avoid enrolling in a fake or blacklisted college.
Jobs in Canada that do not require any work permit
Athlete or Coach
Aviation accident or incident investigator
Business visitor
Civil aviation inspector
Clergy
Convention organizer
Crew member
A short-term, highly skilled worker
Short-term researcher
Student working off-campus
Student working on-campus
Military personnel
News reporter
Film and media crew
Staff member or producer working on any ad
Performing artist
Emergency service provider
Examiner and evaluator
Expert witness or investigator
A family member of a foreign representative
Foreign government officer or representative
Health care student
Judge, referee or similar official
Public speaker
Conclusion
To summarise, the Canada work permit requirements differ depending on the type of professional perspective. Furthermore, financial considerations must be taken into account in order to preserve the success rate of visa applications. As a result, legitimate methods of work settlement in Canada are available. Finally, obtaining a work visa in Canada is simple if occupations are tailored to the candidate's interests and talents.
FAQs (Canada work permit requirements)
Is IELTS necessary for a work visa in Canada?
IELTS is required for anybody seeking a PR visa to Canada. Your IELTS score will have a significant impact on your Express Entry CRS score. As a result, obtaining a Canada Work Visa without passing the IELTS test with the requisite bands is impossible.
Can a work permit holder's spouse or common law partner and dependent work in Canada?
Yes, they can work in Canada in most circumstances. To work in the nation, they will require a work permit. They must apply for the work permit separately. They can also apply for an open work visa in some situations, which permits them to apply for any employment with any company. To hire the employee, the employer must get an LMIA. The spouse-dependent work visa will take 1 to 3 months to complete.