Canada is a prime attraction for immigrants because it provides a conducive atmosphere for personal and professional development. The government's policy is immigration friendly which is a good indication for individuals looking to relocate. Not only that, Canada has excellent health care facilities. Canada is also a good place to work and study. So, individuals are attracted to Canada very much. To get PR in Canada there are certain criteria. You must fulfill these criteria for PR in Canada.
If you don't know about it, then don't worry! Here you will know everything about the criteria for PR in Canada. First of all, we understand the PR.
What is PR?
Your PR card can be used to prove that you are a permanent resident of Canada. When traveling outside of Canada, you are required to display your card plus your passport while returning. A permanent resident enjoys the same benefits as a Canadian citizen. However, unlike Canadian citizens, they have to maintain certain obligations in order to not get their PR canceled.
Candidates are given PR Visas after an evaluation as well as a thorough application procedure. Several qualifying criteria are used to evaluate applicants. They are assessed based on their abilities and potential to contribute to the Canadian economy.
Different types of PR provided by Canada
For potential immigrants, Canada provides over 60 migration programs. The most popular of these is the Express Entry Program, the Provincial Nominee Program (PNP), and the Quebec Skilled Workers Program (QSWP).
The Express Entry program, which is a government selection approach, is the most popular of them. The Canadian government launched the Express Entry program in 2015 to shorten the selection process. This program is meant to screen applicants based on a points system. So, only the most qualified individuals are chosen. This model is divided into three sub-categories-
1. Federal Skilled Workers Program (FSWP)
2. Federal Skilled Trades Program (FSTP)
3. Canadian Experience Class (CEC)
To be qualified for the Express Entry program, you must fulfill the eligibility standards in at least one of these categories as an application. In a way, the categories for awarding points under the Express Entry method are the criteria for PR in Canada selection process.
To be eligible to apply for a PR visa, the candidate must get a certain number of points. The Comprehensive Ranking System (CRS) is another name for the points system, and the total amount of points scored by a candidate is referred to as the CRS score.
The factors affecting CRS and the points awarded for each criterion are mentioned-
Age: 12 points
Education: Max 25 points
Work Experience: Max 15 points
Language Skills: Max 28 points
Adaptability: Max 10 points
Arranged Employment: Max 10 points
Advantages of getting a PR in Canada
There are various advantages to becoming a citizen that many foreign people receive when starting a new life in Canada. Among these advantages are-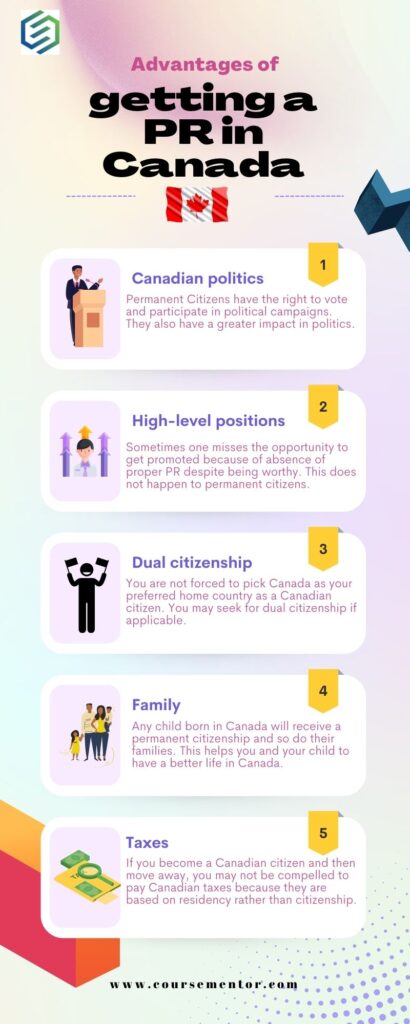 Canadian politics- Permanent Citizens have the right to vote and participate in political campaigns. They also have a greater impact on politics.
High-level positions- Sometimes one misses the opportunity to get promoted because of the absence of proper PR despite being worthy. This does not happen to permanent citizens.
Dual citizenship- You are not forced to pick Canada as your preferred home country as a Canadian citizen. You may seek dual citizenship if applicable.
Family- Any child born in Canada will receive permanent citizenship and so do their families. This helps you and your child to have a better life in Canada.
Taxes- If you become a Canadian citizen and then move away, you may not be compelled to pay Canadian taxes because they are based on residency rather than citizenship.
Criteria For PR In Canada: Procedure to get a PR
The following is the procedure to apply for permanent residency in Canada-
Complete your education credentials evaluation (ECA)
Obtain the necessary IELTS score.
Examine your eligibility. You must score 67 points in CRS.
After creating an Express Entry profile, you also have to submit your application to the online pool. As well as, apply to WES for an Education Credential Assessment.
Fill out the Express Entry application. While staying, mark all of the provinces.
Sign up for the Job Bank.
Fill out an application for the Provincial Nomination Program. (optional).
Receive your Application Invitation (ITA)
Canada citizenship and immigration will undertake the appropriate medical and criminal background investigations (CIC)
You will have 60 days to gather all of the necessary documentation and apply for the final step.
The CIC will next require you to have a medical test, and once your experience documents have been validated, you will be requested to submit your passport to the Canadian Embassy.
And finally, have a visa stamped on your passport.
Criteria For PR In Canada: Documents required for getting a PR
The following are the essential documents for obtaining permanent residency in Canada-
Evidence showing you have enough money to finance your application and stay in the nation
Evaluation of educational credentials (ECA)
Documents supporting your visa application must be originals or official translations.
Diplomas and certifications in education
Assessment of abilities
Results of language tests
Canada PR Processing Fees
| | |
| --- | --- |
| Fees | CAD |
| Your Application Processing Fee ($550) + Right of Permanent Resident Fee ($490) | 1,040 |
| Application Fee | 550 |
| To include Spouse or Common-Law Partner: Processing Fee ($550) + Right of Permanent Resident Fee ($490) | 1,040 |
| To include married Partner | 550 |
| To include a Dependent Child | 150 |
Conclusion ( Criteria For PR In Canada)
Finally, after submitting important documents and getting your PR, you can receive all the advantages received by a Canadian citizen. Not only you will receive free health care, but also excellent work opportunities. The list of advantages does not end here. You can enjoy all these with ease. For this, you have to complete the criteria for PR in Canada. These are important because you do not want your PR to be canceled by authorities.
FAQs (Criteria For PR In Canada )
How can you improve your CRS score for Canada PR?

You may raise your CRS score under the Express Entry Program by following these easy steps-
Make an attempt for a provincial nomination.
Obtain a job offer from a Canadian company.
Increase your academic level
When applying, include your spouse or partner.
Gain more work experience
Retake your language test to improve your score.
Use the services of an immigration consultant.
What exactly is a National Occupational Classification (NOC)?

This is Canada's official occupational classification system. Applicants can use the NOC to determine whether or not an occupation is listed. NOC assists you in learning about the major functions and educational requirements for employment.