UAE is one of the most glittering places on Earth. Tall buildings and golden cars cover the cities. The UAE is rich in both culture and fashion. The wealth in the UAE is due to the booming oil business. This makes living in the UAE very exciting. The UAE government introduced the Golden visa in 2019. Many don't know what is golden visa UAE but it became quite the hot topic when introduced. The UAE government has begun to give several attractive chances to investors, entrepreneurs, specialized skills, and business professionals.
My aunt works in Dubai as a tourist guide. Last summer we went there and I was surprised by the magnificence of its cities. I was in awe of the opportunities provided by the UAE and living there was a dream of mine. So, for living in the UAE, one needs a Golden visa. It is not the only visa but it is the most significant as it gives one access to various working opportunities. Many don't know about the golden visa. That is why they search for what is golden visa UAE.
Here you will know what is golden visa UAE in detail. Stay tuned!
What is Golden Visa UAE?
The UAE Golden Visa went into effect in 2019. The Golden Visa is essentially a long-term UAE residency visa. A Golden Visa is a renowned method of increasing foreign direct investment (FDI) by allowing foreign nationals, primarily entrepreneurs, business owners, artists, scientists, investors, brilliant students, doctors, and engineers, to establish companies, live, work, and study in the UAE without the sponsorship of an employer. There are two sorts of Golden Visas: one with a five-year validity period and one with a ten-year validity period.
Who can get a Golden Visa?
The eligibility conditions vary depending on the period of the visa. Investors and persons with specialized abilities can apply for ten-year visas, while investors, entrepreneurs, and excellent students can apply for five-year visas. Investors, entrepreneurs, persons with specialized talents, researchers in many sectors of science and knowledge, and brilliant students with promising scientific abilities may be awarded golden visas.
People are sometimes nominated for golden visas by senior Emiratis or government bodies, and in other cases, they apply online. People who spend 1 million to 2 million dirhams on the property have various alternatives. If a person is granted a golden visa then their wife/husband and children can also apply.
What is golden visa UAE and What Are the Advantages of the UAE Golden Visa for Indians?
I have explained what is golden visa UAE above, now we move to the advantages of it to Indians-
The long-term resident visa (Golden Visa UAE) allows foreign people to not only live, work, or study in the UAE, but also to enjoy a number of special perks, including-
The Golden Visa UAE is a self-sponsored long-term residence visa that may be renewed every 5 or 10 years.
For this 10-year golden visa, Indian individuals do not require UAE national sponsors or employers.
Indian people are allowed to stay outside the UAE for at least six months without losing their UAE Golden residency visa.
Holders of the Golden Visa UAE are permitted to work, study, and reside in the UAE.
Golden Visa recipients UAE owns the whole enterprise in the UAE.
Golden Visa holders can sponsor their spouses and family members.
Golden Visa holders can sponsor their children of any age.
Holders of the Golden Visa can sponsor a visa or work permit for a domestic helper.
In Abu Dhabi, Golden Visa holders will be eligible for discounts and special deals on automobiles, real estate, health care, hotels, health insurance, and financial services.
Abu Dhabi golden visa holders will receive discounts on selected properties from developer Imkan Properties as part of the Abu Dhabi Residents Office's commercial collaborations.
Banks provide discounted mortgage fixed-interest rates to real estate golden visa investors.
Holders are eligible to lower prices on yearly health insurance policies for families and individuals, with a wide range of network coverage and a package of benefits both inside and outside the UAE.
Golden visa holders are entitled to automobile price reductions and priority booking for new releases, as well as unique payment options, maintenance incentives, and licensing services.
They will enjoy exclusive deals for meals, spa treatments, gyms, and hotel stays at select Abu Dhabi hospitality spots.
How to Apply for a Golden Visa
First of all, you must obtain a 6 months visa to enter the country. This is a necessary condition for obtaining a Golden Visa. This also helps you to explore various opportunities and explore the country.
Submit your application for this multi-entry visa. 
Fill out an online form based on your profile, such as an investor, entrepreneur, or student. 
For a multi-entry visa to the UAE, you must have your legal documents attested by the Indian State Department, the MEA, and the UAE consulate in India. 
Your six-month visa allows you to visit the nation and demonstrate that you are talented and suitable for a Golden Visa.
What is Document Attestation and how to do it?
Document attestation is required before relocating to the UAE for job, business, or education. The Ministry of External Affairs (MEA) in India is the exclusive authority for attestation of Indian government-issued papers.
Attestation is a verification method that is required for an individual to authenticate his documents in order for them to be used overseas. Depending on the applicant's reason for relocating overseas, different papers are required for attestation.
For a student to apply for a Golden Visa, the following papers must be attested by the State Department, MEA, and UAE embassy-
The original document of Degree or Diploma
For attestation, a transcript of the original document is provided.
Previous Experience: Attestation of Secondary School Diploma
If you have not studied in the UAE, you must equalize and authenticate your documentation in accordance with UAE requirements in order to be eligible for a UAE Golden Visa.
What is golden visa UAE: Documents Requirements for it
The documents listed below are part of an applicant's UAE Golden Visa requirements.
Authenticated university diploma and academic transcript
a duplicate of the residency permit (Emirate of Dubai)
Copies of passports
Outstanding Student Profession Awarded
According to the applicant's specialized category, the following further accreditations are required to apply for a UAE Golden Visa-
If a scientist has been acknowledged by the Emirates Scientist Council or has received the Mohammed Bin Rashid Medal for scientific excellence, he is entitled to apply for a Golden Visa for the UAE.
The Ministry of Culture and Youth must recognize a creative individuals.
An investor must have a patent authorized by the Ministry of Economy in order to get a UAE Golden Visa.
Students with a minimum secondary school grade point average of 95 percent and university students with a GPA of at least 3.75 upon graduation are eligible for a five-year Golden Visa.
A doctor, Ph.D., or engineer qualified from one of the top 500 authorized colleges by the UAE Ministry of Education (MOE) may apply for a Golden Visa for the UAE.
The UAE government has created a new category for Golden Visa applicants, which includes managers and CEOs. Before applying for a Golden Visa under this category, the candidate must have his university degree certified by the Ministry of Education (MOE).
MOE authentication or attestation of documents is required if a candidate has finished his studies in the UAE. Another thing to keep in mind is that this service is only available to students who have graduated from a MOE-accredited university.
Requirements for 10 years Golden Visa
The UAE Golden Visa criteria for those applying for a 10-year Golden residency visa in the UAE are as follows-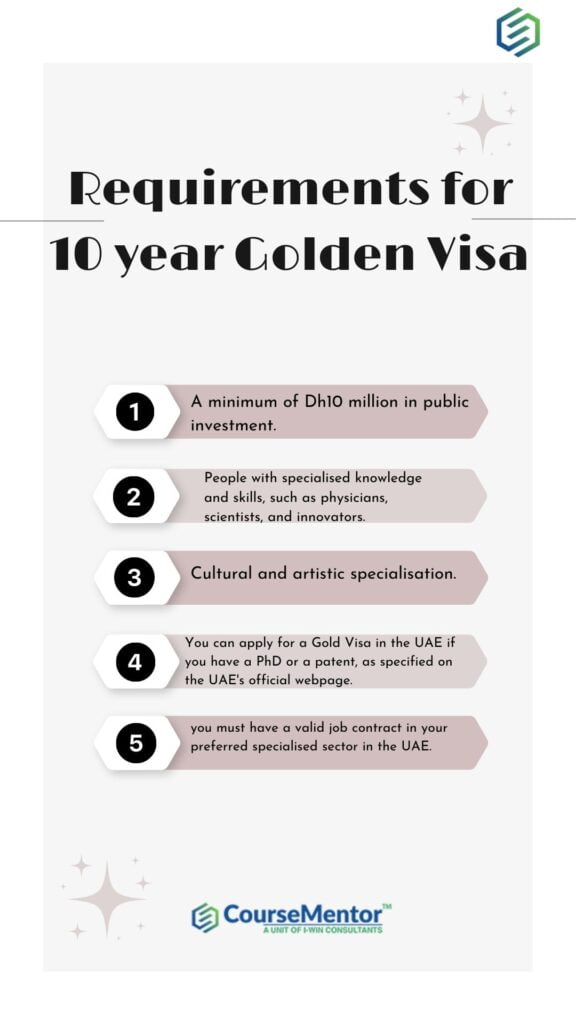 A minimum of Dh10 million in public investment.
People with specialized knowledge and skills, such as physicians, scientists, and innovators.
Cultural and artistic specialization.
You can apply for a Golden Visa in the UAE if you have a Ph.D. or a patent, as specified on the UAE's official webpage.
Another thing to remember is that if you intend to apply for a Golden Visa, you must have a valid job contract in your preferred specialized sector in the UAE.
Expenses required for UAE Golden Visa
A Golden Visa application in the UAE will cost you between AED 2,800 and AED 3,800.
Applying for a Golden Visa from outside the UAE would cost you between AED 3,800 and AED 4,800.
The cost of the UAE Golden Visa varies depending on the category and kind of visa.
Conclusion (What is golden visa UAE)
I hope from the above discussion you now understand what is golden visa UAE. The main benefit of the golden visa is likely security; by providing it, the UAE government has made it obvious that they want visa-holders to have property in the UAE. The added benefits make it a one-of-a-kind alternative for enjoying a stress-free life in the UAE.
FAQs( What is golden visa UAE )
How Long Does It Take To Get A UAE Golden Visa?

You must first get entrance permission before applying for the UAE Golden Visa. If all of the papers supplied are correct, the entrance permission can be issued in 2-7 working days. After you have obtained your entrance permission, you can apply for the UAE Golden Visa, which can take up to 30 days to process.
With a UAE Golden Visa, can you become a permanent resident?

Unfortunately, you will not be able to become a permanent resident in the UAE. You can, however, obtain the UAE Golden Visa and renew it every 5 to 10 years.