What is golden visa UAE? This question must pop up in everyone's mind when they hear about the golden visa UAE.
As a long-term residency program, Sheikh Mohammed bin Rashid, Dubai's ruler and prime minister introduced the golden visa in 2019. Since its introduction, the visa has been given to more than 400 investors, businessmen, and some of their family members.
Do you know what Mouni Roy, Ranveer Singh, Sanjay Dutt, Sonu Sood, and Shah Rukh Khan have in common? They have all received Dubai Golden Visas, which allow them to live in Dubai without any restrictions.
The Golden visa is a long-term residence permit that allows foreign citizens to stay, work, or study in the United Arab Emirates while also receiving special benefits. Those who qualify for the Golden visa are entrepreneurs, investors, scientists, outstanding students, graduate students, front-line heroes, and humanitarian pioneers.
If you do not know what is golden visa UAE, then this blog will help you to understand everything about this, along with its advantages.
If you want to, what are the documents you need for the US tourist visa, then you should read our blog, "US tourist visa requirements."
What is Golden Visa UAE?
What is golden visa UAE? The "Golden Visa" of the UAE is a long-term resident visa that allows talented foreigners to stay, work, or study there while also enjoying several special benefits, like:
A multiple-entry entrance visa valid for six months before a residence permit is issued
A 10-year renewable long-term residency permit
A self-sponsored visa since an employer is not required.
Ability to extend their stay outside the UAE further than the normal six-month limit in order to maintain the validity of their residence visa
Can sponsor spouse or children of any age
The golden visa holder can invite unlimited domestic helpers.
In case of the Golden visa holder passes away, family members may continue in the UAE until the end of their permit period.
Who can get a Golden Visa?
The following categories of people are eligible for the Golden Visa, according to a UAE Cabinet Resolution.
Investors,
Entrepreneurs
specialized talents
Researchers in different fields of science
Bright students with promising scientific capabilities
To learn about the time it takes to process Canada super visa, you should read our blog, "Canada Super Visa Processing Time."
Advantages of the UAE Golden Visa for Indians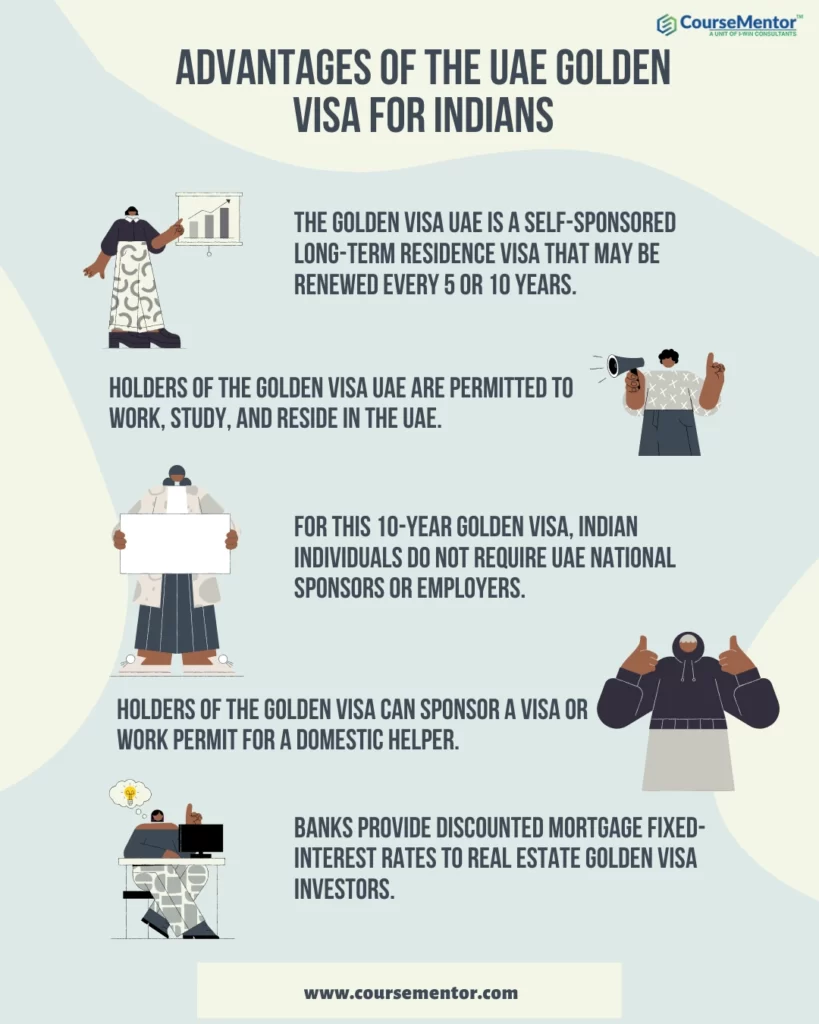 The long-term resident visa (Golden Visa UAE) allows foreign people, including Indians, to not only live, work, or study in the UAE but also to enjoy a number of special perks, including-
The Golden Visa UAE is a self-sponsored long-term residence visa that may be renewed every 5 or 10 years.
For this 10-year golden visa, Indian individuals do not require UAE national sponsors or employers.
Indian people are allowed to stay outside the UAE for at least six months without losing their UAE Golden residency visa.
Holders of the Golden Visa UAE are permitted to work, study, and reside in the UAE.
Golden Visa recipients UAE owns the whole enterprise in the UAE.
Golden Visa holders can sponsor their spouses and family members.
Golden Visa holders can sponsor their children of any age.
Holders of the Golden Visa can sponsor a visa or work permit for a domestic helper.
In Abu Dhabi, Golden Visa holders will be eligible for discounts and special deals on automobiles, real estate, health care, hotels, health insurance, and financial services.
Abu Dhabi golden visa holders will receive discounts on selected properties from developer Imkan Properties as part of the Abu Dhabi Residents Office's commercial collaborations.
Banks provide discounted mortgage fixed-interest rates to real estate golden visa investors.
Holders are eligible to lower prices on yearly health insurance policies for families and individuals, with a wide range of network coverage and a package of benefits inside and outside the UAE.
Golden visa holders are entitled to automobile price reductions and priority booking for new releases, as well as unique payment options, maintenance incentives, and licensing services.
They will enjoy exclusive deals for meals, spa treatments, gyms, and hotel stays at select Abu Dhabi hospitality spots.
How to Apply for a Golden Visa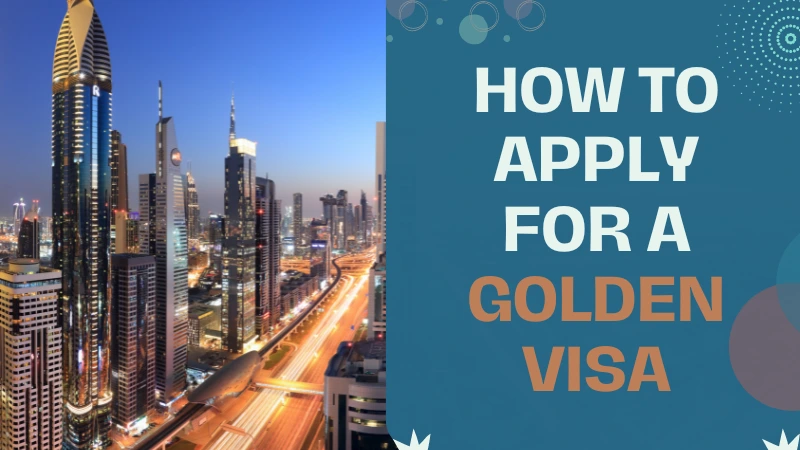 Most of you must have a question in mind about how to get golden visa in UAE, here, we will discuss that.
Firstly, you must obtain a 6 months visa to enter the country. This is a necessary condition for obtaining a Golden Visa. This also helps you to explore various opportunities and explore the country.
Submit your application for this multi-entry visa.
Fill out an online form based on your profile, such as an investor, entrepreneur, or student.
For a multi-entry visa to the UAE, you must have your legal documents attested by the Indian State Department, the MEA, and the UAE consulate in India.
Your six-month visa allows you to visit the nation and demonstrate that you are talented and suitable for a Golden Visa.
What is a Document Attestation? How to do Document Attestation?
After knowing what is golden visa UAE, you must know about the document attestation for a golden visa UAE. We will discuss
The institution's official stamp and signature must be on the certified document (Original signature and stamp), not a copy. A college or university must issue the certified document that the Ministry has granted recognition.
Attestation of papers and academic credentials produced by private higher education institutions inside the United Arab Emirates that have been certified and granted licenses by the Ministry.
Required Documents
Attestation of the necessary paperwork and credentials for graduate students/ Graduate students with a Bachelor's or Diploma:
The original certificate.
Transcript of the original grades.
Previous Qualification Certificate
To learn what you have to do to get Canada Work Visa, you should read our blog, "Canada Work Visa for Indians."
Documents Requirements for Golden Visa UAE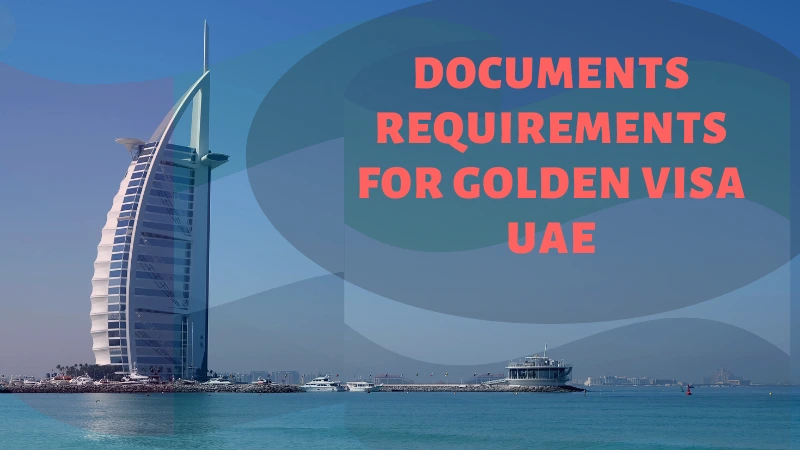 The documents listed below are part of an applicant's UAE Golden Visa requirements. After knowing what is Golden visa UAE, you should also know the documents required for it.
Authenticated university diploma and academic transcript
A duplicate of the residency permit (Emirate of Dubai)
Copies of passports
Outstanding Student Profession Awarded
According to the applicant's specialized category, the following further accreditations are required to apply for a UAE Golden Visa-
If a scientist has been acknowledged by the Emirates Scientist Council or has received the Mohammed Bin Rashid Medal for scientific excellence, he is entitled to apply for a Golden Visa for the UAE.
The Ministry of Culture and Youth must recognize creative individuals.
An investor must have a patent authorized by the Ministry of Economy in order to get a UAE Golden Visa.
Students with a minimum secondary school grade point average of 95 percent and university students with a GPA of at least 3.75 upon graduation are eligible for a five-year Golden Visa.
A doctor, Ph.D., or engineer qualified from one of the top 500 authorized colleges by the UAE Ministry of Education (MOE) may apply for a Golden Visa for the UAE.
The UAE government has created a new category for Golden Visa applicants, which includes managers and CEOs. Before applying for a Golden Visa under this category, the candidate must have his university degree certified by the Ministry of Education (MOE).
MOE authentication or document attestation is required if a candidate has finished his studies in the UAE. Another thing to remember is that this service is only available to students who have graduated from a MOE-accredited university.
To learn about the process and requirements for a work visa in Singapore for Indians, you can read our blog, "Singapore Work Visa for Indians."
Requirements for 10 years Golden Visa
Hope you have understood what is golden visa UAE, now its time to understand the requirements for a 10-year golden visa UAE. The UAE Golden Visa criteria for those applying for a 10-year Golden residency visa in the UAE are as follows-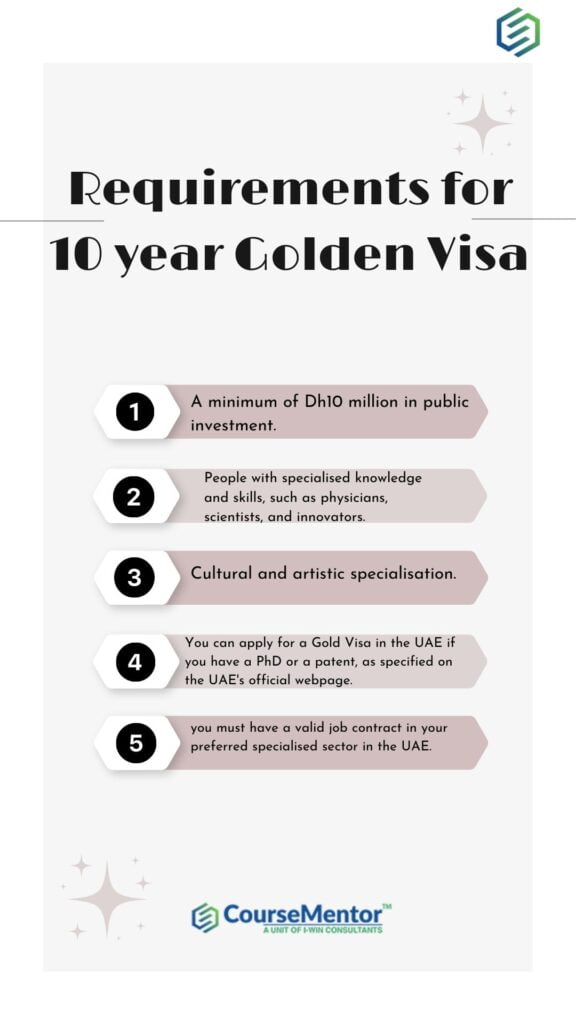 A minimum of Dh10 million in public investment.
People with specialized knowledge and skills, such as physicians, scientists, and innovators.
Cultural and artistic specialization.
You can apply for a Golden Visa in the UAE if you have a Ph.D. or a patent, as specified on the UAE's official webpage.
Another thing to remember is that if you intend to apply for a Golden Visa, you must have a valid job contract in your preferred specialized sector in the UAE.
If you want to know What is i20 visa form, then you should read our other blog, "What is i20 visa form: Solve the mystery related to it."
Expenses required for UAE Golden Visa
A Golden Visa application in the UAE will cost you between AED 2,800 and AED 3,800.
Applying for a Golden Visa from outside the UAE would cost you between AED 3,800 and AED 4,800.
The cost of the UAE Golden Visa varies depending on the category and kind of visa.
The applicant must pay approximately Dh1,000 for a medical checkup and a processing fee for an Emirates ID.
So this was everything about the golden visa UAE price that one should know before applying for it.
Conclusion (What is golden visa UAE)
We hope from the above discussion, you now understand what is golden visa UAE. The main benefit of the golden visa is likely security; by providing it, the UAE government has made it obvious that they want visa-holders to have a property in the UAE. The added benefits make it a one-of-a-kind alternative for enjoying a stress-free life in the UAE. So this was all you should know about golden visa UAE and how to get golden visa in UAE.
FAQs ( What is golden visa UAE )
How Long Does It Take To Get A UAE Golden Visa?

You must first get entrance permission before applying for the UAE Golden Visa. If all of the papers supplied are correct, the entrance permission can be issued in 2-7 working days. After you have obtained your entrance permission, you can apply for the UAE Golden Visa, which can take up to 30 days to process.
With a UAE Golden Visa, can you become a permanent resident?

Unfortunately, you will not be able to become a permanent resident in the UAE. You can, however, obtain the UAE Golden Visa and renew it every 5 to 10 years.
How much does UAE Golden Visa cost?
The cost of a Golden visa UAE depends upon the visa category and the type of service you take. If you apply for a Golden visa UAE outside of UAE, it will cost you between AED 3800 and AED 4800. But the same will cost you between AED 2800 and AED 3800 if you are currently in UAE.
What is the criteria for UAE Golden Visa?
It includes talented individuals in the arts, sports, digital technology, and other important fields, but only with the advice or approval of a federal or local governmental agency.