You are a normal office worker. Working 9 to 5, 6 days a week. Living a very boring life and you have had enough of it. Suddenly a thought comes to your mind that why not go on a vacation? If I just take a break from my daily life I will be much more enthusiastic when working. When it comes to travelling and tourism, one country at the top of the list for all the exploring, enjoying, and excitement-filled adventure is the United States of America.
Yes, you read it right! But many don't know about the documents required for US tourist visa. Here you will know everything about it.
In other words, the United States of America has numerous areas to explore and many popular sites to visit. I have visited America before and I can assure you are going to love your visit. From dazzling streets and high rise buildings to barren deserts showing the beauty of every aspect of life. All traits make America a great candidate for visiting. Following blog mentions all the documents required for US tourist visa.
What is a U.S tourist visa?
A US Tourist Visa is a form of non-immigrant visa. It is a written permit for your visit to the US. The purpose might be business or tourism. The B1/B2 visa is another name for the US Visa. The B1/B2 visa permits holders to travel to the United States temporarily. The B1 visa is for persons who want to consult with their business colleagues, attend conferences linked to their business, or participate in professional, educational, and scientific conventions, whereas the B2 visa is for people who want to visit their family or relations or for any other reason. There are different mandatory documents required for each US tourist visa. However, certain basic mandatory documents are still required.
Types of US Tourist Visa
The US offers several sorts of short-term visitor visas, including those for tourists, business visitors, and future spouses. Anyone contemplating a brief trip to the US, whether for travel or business, may need to obtain a visitor or transit visa. The type of US visa to be requested will depend on why you want to travel there. Following are the types of visas-
B1 Visa: This Visa is for business travelers. Using this visa, one can-
Participate in a conference,
Consult with colleagues in the field,
Contract negotiations, or
Complete an estate settlement.
B2 Visa: This visa is for those who are either Tourists on vacation, persons visiting the United States to compete in amateur contests or social events, or to receive medical care. The B-2 visa is a non-immigrant visa to the United States. The visa allows individuals to enter the United States for a limited time for tourist, pleasure, or family visits.
When in the United States, B-visa holders can do the following:
Come to the country for a vacation.
Explore the country's numerous cities.
Visit their friends.
Participate in social gatherings organised by organisations.
Travel to the country for medical care.
Take part in sporting or musical events.
Take part in short-term courses.
Transit C: This visa is for foreign nationals travelling via the United States to another destination, pausing in the United States for a brief period of time before continuing on their route.
Transit C-1, D, and C-1/D: This visa is for crew members of international airlines or marine vessels heading to the United States.
K-1 visa: If a person is engaged to someone in the United States, their partner may apply for a K-1 visa. The K-1 visa allows the visa holder to enter the US to marry their partners within 90 days of arrival. Following their marriage, couples can apply for an adjustment of status to get a US Green Card.
How to get a US tourist visa?
To obtain a tourist visa, you must first get the following documents required for US tourist visa–
To begin, you must send the required photos and complete the DS-160 form.
After that, you will be given a ten-digit barcode.
The second step is to pay the Visa application fee. The price for obtaining a tourist visa is USD 160.
Third, you must make two appointments. One interview will take place inside the embassy or consulate, while the other will take place at the Offsite Facilitation Centre (OFC)
Following these appointments, you must submit your biometrics to the Visa Application Centre.
If you match the qualifying conditions after the personal interview, you will be granted the visa.
Moreover, because of recent events of covid-19, you are also required to submit the proof of vaccination along with the recent history of disease if any.
Eligibility criteria for the US tourist visa
You must provide adequate proof of funds.
Passport having at least 6 months validity.
You must have a permanent address in your native country.
You must provide evidence that you are a foreigner.
Display proof of your travel:
If it is for tourism, you must provide a travel itinerary, tickets, and so on.
You must present an invitation letter while visiting relatives..
To the immigration officer, you must demonstrate your purpose to exit the country.
You are not permitted to work, study, or perform for pay.
Documents required for US tourist visa
Following are the mandatory documents required for US tourist visa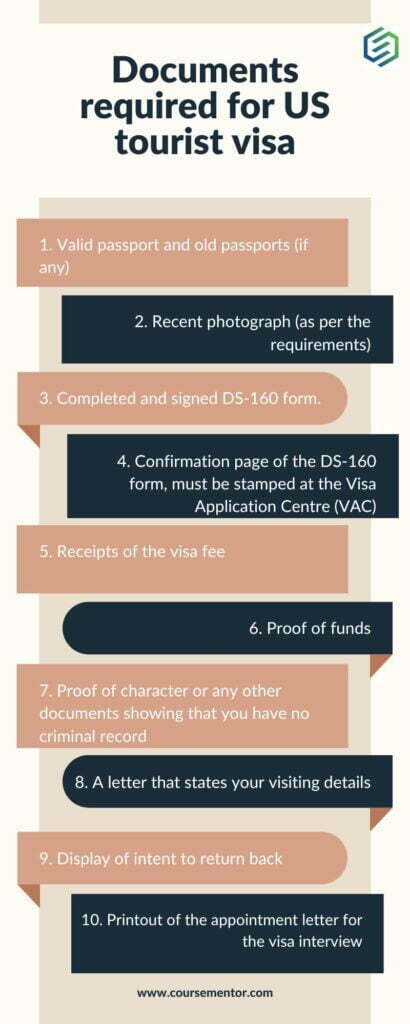 Valid passport and old passports (if any)
Recent photograph (as per the requirements)
Completed and signed DS-160 form.
Confirmation page of the DS-160 form, must be stamped at the Visa Application Centre (VAC)
Receipts of the visa fee
Proof of funds
Proof of character or any other documents showing that you have no criminal record
A letter that states your visiting details
Display of intent to return back
Printout of the appointment letter for the visa interview
You are now ready to board the airline, having finished all procedures, and gathered all the documents required for US tourist visa. After you have obtained your visa. Pack your baggage, buckle your seat belts, and prepare to have some of the finest times of your life packed with excitement, adventure, and unique experiences.
Conclusion ( Documents required for US tourist visa)
The US is a pretty big country and you can not visit it in a short amount of time. However, you should enjoy the time you spend there. Without proper documentation your visit might be ruined. This might even become some of your worst experiences as no country allows anyone, even its own residents to travel freely without proper documentation. This is a necessary part of your travel plan. Therefore in order to have extreme fun and enjoy your trip to the fullest you must prepare proper documents.
FAQ's (Documents required for US tourist visa )
Is a B-2 visa valid on an expired passport?
If your B-2 visa is still valid, you can use it even if your passport has expired. Don't Remove it from your passport. You can still visit the United States with your expired passport and your new passport.
How much money do I need to actually prove for a tourist visa to the United States?
There is no official restriction to the amount of money that can be demonstrated for the US Tourist Visa. Any sum that may justify your overall costs for your travel to the United States must be sufficient. This covers plane tickets, medical insurance, boarding, hotel, shopping, and so forth. It takes into account the duration and purpose of the journey. The greater the sum, the better.
A 15-day journey for one individual, for example, is expected to cost between $5,000 and $6,000 USD. As a result, the corresponding quantity of money must be in your or your sponsor's bank.