Canada is a big country with thousands of immigrants from all over the world. The excellent health facilities, great work environment, and job opportunities attract these immigrants. Immigrants invite their families to visit them. For inviting your family to Canada, you need to get a Super visa for them. But many don't know about Canada super visa processing time. There can be various reasons for inviting your family to Canada. You might want them to stay together after they retire. You want someone to be there for you while you're having a kid or transitioning to parenting.
Also, whether you have lost a loved one or simply miss them, you want to be surrounded by your family. The whole process may take up to 9 months. This includes various processes. Here in this blog, you will know everything about Canada super visa processing time.
What is a Canada Super Visa?
The Canada Super Visa is a visa document designed specifically for seniors (parents or grandparents). It allows them to visit their kid who is working or studying in Canada. Canada Super Visa allows parents to stay with their children for upto 2 years without renewing their status.
In 2012, the Canadian government created the Super Visa scheme to allow immigrants to invite their relatives to live and remain in Canada with them. When your parents or grandparents enter Canada on a special visa, they will have the legal status of a visitor. They will not have the same legal rights and obligations as a permanent resident or citizen. The rights such as the right to work in Canada, will not be valid for them.
Now you know the Canada super visa. After it, we will focus on knowing the Canada super visa processing time.
Difference between Visitor visa and Super visa
Both the super visa and the visitor visa provide visa holders with visiting status in Canada. Although, they differ in various things, including-
Duration of stay allowed: A super visa allows your parents or grandparents to stay in Canada for up to two years. A visiting visa, on the other hand, permits the bearer to stay in Canada for up to six months. However, the visa officer may sometimes award a shorter visa.
Expiry of the visa: A super visa is normally valid for up to ten years or until your passport expires, however, a tourist visa may have a shorter validity period.
Applicant eligibility: While anybody may apply for a visiting visa to Canada, only Canadian citizens or permanent residents' parents or grandparents are eligible for a super visa.
Single or multiple entries: Super visas always allow multiple entries into Canada, which means the visa holder can leave and re-enter the country as many times as necessary. A visiting visa, on the other hand, might be a single or multiple entries. Visitors cannot select whether they want a single or multiple entry visa, and the choice is made by the visa officer.
Eligibility Criteria for Super Visa
The following are the qualifying requirements for a Canada super visa-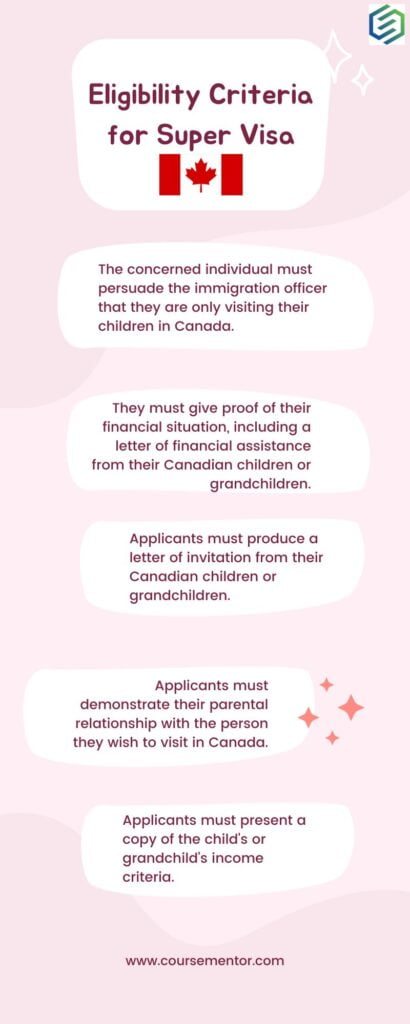 The concerned individual must persuade the immigration officer that they are only visiting their children in Canada and will return to their home country once the authorized period expires.
They must give proof of their financial situation, including a letter of financial assistance from their Canadian children or grandchildren.
Applicants must produce a letter of invitation from their Canadian children or grandchildren.
Applicants must demonstrate their parental relationship with the person they wish to visit in Canada.
Applicants must present a copy of the child's or grandchild's income criteria.
The above documents are easy to get and take only a short part of processing time. The income evaluation will be based on one or more of the following factors-
your recent tax return's copy
The most recent T4 or T1 copy
Pay stubs for employment insurance
Applicants entering Canada must have a complete medical examination performed by a licensed physician.
The whole cost of obtaining a super visa must be paid in Canadian dollars.
Your parent or grandparent must consult the document checklist with you. They have to acquire all of the necessary paperwork for the application. These will usually contain their passports, birth and marriage certificates, and trip dates (flight tickets or itinerary). They also require evidence of medical insurance, and the letter of invitation you give them, as well as your proof of Canadian residency and financial papers. These could take months of processing time but are still manageable.
They will also be required to submit copies of their financial documents (including bank statements). Tax returns, property documents, investments, and so on) or employment letters, if any, to demonstrate that they have strong ties to their home country and that their stay in Canada will be temporary. These documents may take most part of the processing time for a super visa. Some of the needed documentation may differ depending on the nation in which the application is submitted.
Canada Super Visa Processing Time
The Super Visa will take anywhere from 8 days to 45 or 50 days to start processing. The processing period for a super visa varies depending on the nation for which you apply. For example, if you apply from India, the average Canada super visa processing time is 135 days. Biometrics may be required as part of the application procedure. The processing time refers to the time from the day IRCC receives the completed application and the decision on the Canada visa application. If biometrics are required it takes additional time to process that.
The Canada super visa processing time for your application will also be determined by the number of applications received by the government, the completeness of your application, and the ease with which the information you've supplied can be verified. Before applying, be sure to check the government website for the most up-to-date processing times.
The Super Visa, unlike the Visitor Visa, has a two-year initial validity period. When you arrive at the point of entry, double-check that the Border Patrol Officer has stamped your passport with the sentence "valid for 2 years." You can apply for another Super Visa from within Canada after two years. The application for extension must be submitted at least 6 months before the initial Super Visa expires.
Conclusion
So, I hope all of your questions related to Canada super visa processing time have been answered. Overall, your Visa will take between 8 and 12 weeks to arrive. To minimize delays, keep the several criteria described above in mind before submitting your application. You may always check the status of your Visa application online or via reputable Visa consultants. This will assist you in submitting your application without problems or delays.
After all the processing is done, they can meet and stay with you. The validity of which can be extended as long as they possess the required documents. They also have to maintain good social behavior and not be involved in anything illegal.
FAQs (Canada super visa processing time)
Is it necessary for me to book an appointment with VFS Global?

You only need to schedule an appointment if you need to supply biometric information. If you've done something before, you might not have to do it again. If you are only submitting your visa application materials, you do not require an appointment.
What exactly is VFS Global?

VFS Global is a corporation that has been approved by the Canadian government to receive and submit visa applications.
When should I send in my application?

You should be aware of the government of Canada's processing times and apply in plenty of time. Applications from India are handled in at least 94 days, although they may take longer.