Nowadays, many student want to pursue their further education in abroad countries.
And IELTS (International English Language Testing System) is an one of the most popular English proficiency exam for those students.
If you want to go abroad for your further study. You have to give IELTS proficiency test which is very important. Without giving IELTS test, you can't get your study visa.
First, you need to know the IELTS exam syllabus and pattern. Because you can't crack your ielts exam without knowing the IELTS exam syllabus and Pattern.
This blog will help you to know all about IELTS, types of IELTS, IELTS exam syllabus, and more. After getting all the information about the IELTS exam syllabus, you can read our blog on how to crack IELTS. We provide the best tips that will help you to crack the IELTS exam.
So, let's start with what is IELTS?
What is IELTS?
The full form of IELTS is International English Language Testing System. This is the most popular English language test globally; about 20 lakh people give this test every year. This test is for those people who want to go to countries where English is the main language.
Why Is the IELTS Important?
IELTS is accepted by more than 11,000 organizations. When you want to study in another country IELTS exam will help you get admission to an abroad country.
IDP is one of the world's leading international educational organizations providing student placement in Australia, the USA, Canada, and New Zealand, and the United Kingdom.
You can also take this exam if you want to move to a country where English is spoken exclusively. Because only after this it will be decided whether you will be able to immigrate there or not.
Cambridge experts have developed this exam, this exam is easily available, and it is very convenient to give this exam; you can give this test 4 times a month.
Types of IELTS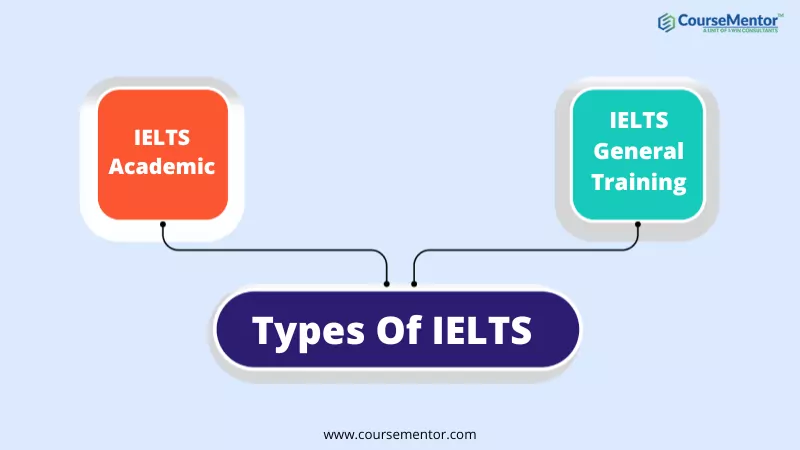 There are two types of IELTS exams: Academic and General Training.
These examinations assess your ability to communicate in English through writing, reading, listening, and speaking.
IELTS Academic
This exam is for those students who want to study in English speaking country or pursue higher education.
It is also used to fulfil professional registration requirements.
IELTS General Training
This test is for those students applying for studies at a lower level than a bachelor's degree. It includes a school or college that teaches English.
Individuals can also use IELTS to gain work experience or other job-related training.
It is required for migration to New Zealand, Australia, Canada, and the United Kingdom.
The test covers every English language skill required in social and professional settings.
IELTS Exam Syllabus Pattern 2023
IELTS exams are divided into two types: Academic and General.
The syllabus for both courses is essentially the same, with a few minor differences.
Let's have a look at the exam pattern and the maximum time given to each section before getting into the IELTS syllabus:
| | | | |
| --- | --- | --- | --- |
| Section | No. of question & duration time | Content | marks |
| Listening | 4 recordings 40 questions 30mins + 10 mins transfer time | Four recorded monologues and conversations | 1 mark per question |
| Reading | 40 Questions 60 minutes | 3 Passages (can be analytical, descriptive,discursive or factual) | 1 mark per question |
| Writing | 2 Questions 60 minutes | Writing task (minimum 150 words)Essay (minimum 250 words) | Each task is graded separately. Task 2 is given more weight in the marking process than Task 1. |
| Speaking | 3 Questions 11-14 minutes | Part 1: Q&APart 2: Speaking in detail on a familiar topicPart 3: Structure Discussion | |
IELTS Exam Syllabus For Listening Section
The IELTS listening section has 4 sub-sections.
The first is an everyday social discussion between two people.
A monologue or speech is the second section.
The third section is a conversation between up to four people in an academic atmosphere. And the fourth is a monologue on an academic topic, such as an academic lecture. You will listen to any audio clip only one time.
Candidates can take notes while listening to conversations and lectures that they can refer to when answering questions.
IELTS Exam Syllabus Listening Test Detail
| | |
| --- | --- |
| Timing | 30 mins + 10 mins transfer time |
| No. of questions | 40 |
| Task types | Multiple choice, matching, plan/map/diagram labeling, form/note/table/flow-chart/summary completion, and sentence completion are all included in this section. |
| Answering | As you listen, you will have to put your answers on the question paper. You get 10 minutes at the end of the test to transfer your answers to an answer sheet. Misspellings and grammatical errors are penalized. |
| Marks | Each question carries 1 mark. |
IELTS Exam Syllabus For Reading Section
According to the IELTS exam syllabus 2023, the IELTS Reading section assesses your reading ability.
The Reading section has 3 passages with 40 questions. It includes multiple-choice, sentence completion, summary writing, matching information, matching lists or phrases, short replies, etc.)
Academic and General Training IELTS have different reading passages and questions.
Reading – IELTS Academic
The IELTS academic include 3 passages which can be factual, descriptive, argumentative, and analytical.
These paragraph are derived from magazines, newspapers, journals, and books, and research papers.
Targeting a non-specialist audience, the lessons are ideal for professionals working abroad or for testing higher education candidates.
Whenever you get problem to crack IELTS reading, then you can read our blog on IELTS reading tips. We have provided the best tips for IELTS reading that will definitely help you to improve your reading.
Reading – IELTS General Training
The IELTS General Training reading test is very different from IELTS academic reading in many ways. But only in the difficulty level of the texts.
Same as Academic reading, GT reading exam has 40 questions. You have to complete these 40 question in 60 minutes.
IELTS Exam Syllabus For Writing Section
Again, the IELTS writing section are different for both (Academic and General Training). IELTS academic and IELTS GT has 2 task: task 1 and task 2.
Writing- IELTS Academic
There are two tasks in the IELTS Academic writing section. Topics are of general interest and are suitable for applicants considering undergraduate and postgraduate courses abroad and those pursuing professional registration.
Task 1
You may get A graph, table, chart, or diagram in task 1. And you have to describe, summarise, or explain the information in your own words.
You may also be asked to describe and explain data, process phases, a flowchart of how something works, or specific object or event.
Task 2
In task 2, you have to describe an essay's point of view, argument, or problem.
Both activities need responses to be written in a professional and academic tone. Arguments should be supported with examples. Whenever you will do IELTS, you may stuck in Writing section because this section is very difficult. That's why we have write a blog on IELTS writing tips that will help you to improve your IELTS writing.
Writing – IELTS General Training
The IELTS General Training writing component includes two tasks based on topics of general interest.
Task 1
You will be given an issue to solve and will be asked to compose a letter asking for information or describing the situation.
The letter might be written personally, semi-formal, or official.
Task 2
You will be asked to respond to an essay's point of view, argument, or problem.
The style of the essay can be a little more personal than the Academic Writing Task 2 essay. Arguments should be supported with relevant examples.
IELTS Exam Syllabus For Speaking Section
IELTS speaking is a face to face interview test. This test measures the communication skills of the candidates. The examiner will check your ability that you can speak english proficiently or not. This section has 3 part:
Part 1
In IELTS speaking part 1, you have to introduce your family, interests, hobbies, educational background. This part will take 4-5 minutes.
Part 2
In IELTS speaking part 2, the examiner will give you cue card. And the examiner will give you 1 minute to prepare. After 1 minute you have to speak continuously 2 3 minutes on that topic.
Part 3
In this part, examiner ask to you some question about part 2 topic. This section is around 4 to 5 minutes.
IELTS Preparation Books\
Here are below some best IELTS books for preparation:
Listening and Speaking Skills by Barry Cusack and Sam McCarter
IELTS General Training & Academic Study Guide
IELTS Preparation and Practice: Reading and Writing Academic Student Book Success to IELTS: Tips and Techniques
IELTS Reading Tests by Sam McCarter
Check Your English Vocabulary for IELTS by Rawdon Wyatt
Improve Your IELTS Writing by Norman Whitby and Sam McCarter
Cambridge Grammar for IELTS
Ace the IELTS: IELTS General Module – How to Maximize Your Score
IELTS Exam Sample Paper
IELTS Preparation Tips
This test is mainly conducted to test the your command over the English language. There are two ways to prepare for this test. You can prepare yourself sitting at home or take coaching. If your English is good then you do not need to take coaching, whereas if English is not good then you can take coaching. Here we are telling you general preparation tips.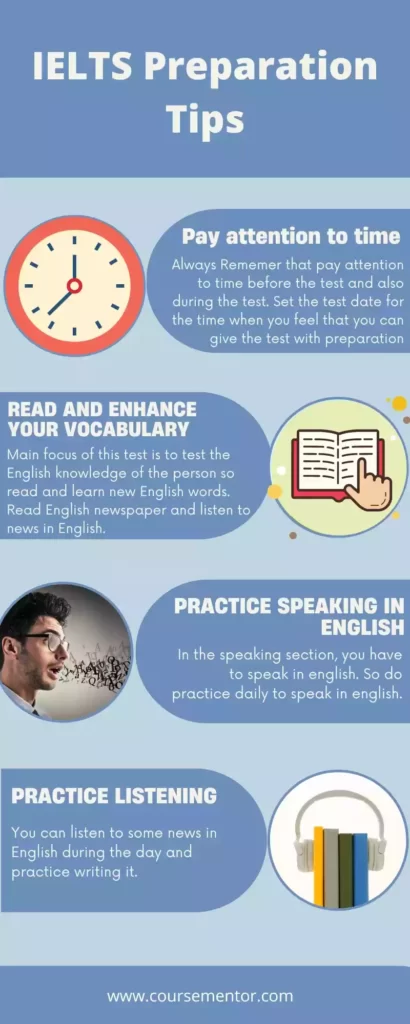 Pay attention to time
Always Rememer that pay attention to time before the test and also during the test. Set the test date for the time when you feel that you can give the test with preparation as this test can be given any time of the year. So give it with preparation as there is a fee associated with this test. So choose the test date wisely.
Read and Enhance Your Vocabulary
The main focus of this test is to test the English knowledge of the person so read and learn new English words. Read English newspaper and listen to news in English.
Practice speaking in English
In the speaking section, you have to speak in english. So do practice daily to speak in english. It happens with many people that they understand English but there is a hesitation in speaking. Eliminate this weakness of yours and practice speaking.
Practice listening
You can listen to some news in English during the day and practice writing it. Because something similar will be told to you during the test as well. Note down what you hear during the test as you will not be heard again.
Conclusion (IELTS Exam Syllabus)
In this blog, we have discussed the IELTS exam syllabus in detail. I hope you have understood this easily. If you like this blog, then share it with your friends.
IELTS Exam Syllabus FAQs
Are there any pass marks for IELTS?
There are no pass marks; rather, all four parts' scores are calculated using a 9-band scale (0-9).
What is the syllabus of IELTS?
Reading, Speaking, Writing, and Listening are the four sections of the IELTS syllabus. The Reading and Writing components of the two types of IELTS examinations, Academic and General, are different, while the Listening and Speaking sections are the same for each.
How do I prepare for IELTS?
The best way to prepare for the IELTS exam
1. Take a practice test.
2. Understand the test format.
3. Be aware of the exam time constraints.
4. Develop your English capabilities and IELTS strategies.