IELTS (International English Language Testing System) is an exam that measures the test takers' speaking, reading, listening, and writing skills in the English language.
A good band score in the IELTS exam shows that a test taker can easily survive in an English-speaking nation.
Besides getting a good overall score, candidates must get a good band score in each exam module.
In this blog, I will provide the best IELTS writing tips you must follow to get a high band score in the IELTS exam.
IELTS writing is considered the most challenging module of the IELTS exam, and students sometimes fail to get a good score in IELTS writing.
Before you learn some of the best IELTS writing tips, you must understand what IELTS writing is.
What Is IELTS Writing?
IELTS writing is a module in the IELTS exam that measures how well you can write the English language. There are two tasks in the IELTS exam.
IELTS writing task 1
IELTS writing task 2
IELTS writing task 1
You have to write a minimum of 150 words in this writing task. The IELTS writing task 1 is different for both types of IELTS exams (IELTS Academics and IELTS General Training).
For IELTS Academics, the test takers have to describe the information they can see in the image (graph/ table/ chart/ diagram) given to them.
For IELTS General training, the test takers are asked to write a letter (formal/semi-formal/ informal).
Candidates should not spend more than 15 to 20 minutes on IELTS writing task 1.
IELTS writing task 2
The candidates must write a minimum of 250 words for this task. For both types of IELTS exams, this question is the same. In this, you will be asked a general question, and you have to answer that question according to your knowledge.
You will have 60 minutes for both questions in IELTS writing and don't spend more than 35 to 40 minutes for IELTS writing task 2.
Now let's shift to IELTS writing tips when you understand everything about IELTS writing.
Also, read – Best 17 Tips For IELTS Speaking To Get 8+ Band Score
Best IELTS Writing Tips
Here are the top 20 IELTS writing tips that students must follow to get a good band score.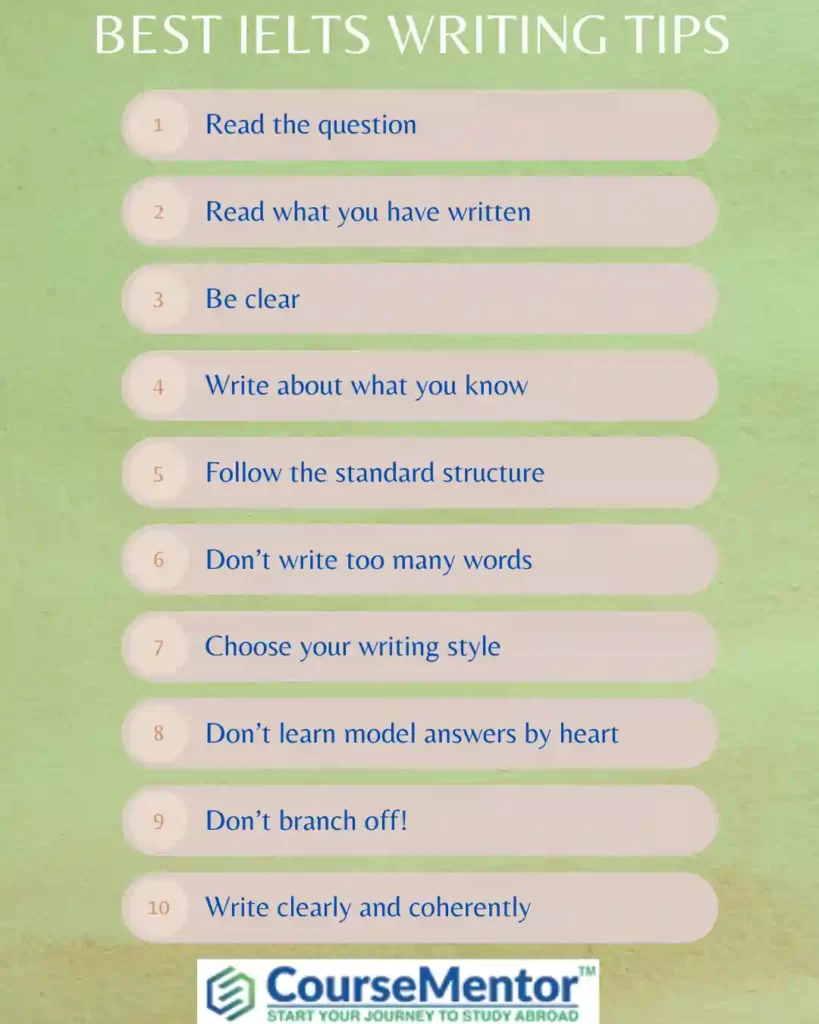 Read the question
To get a good score, you must first understand what the question wants you to perform. That is why you always read your question carefully and answer all the topics you've been asked to cover. For example,
Government should pay parents of very young children to allow one parent to stay at home and care for the child.

Why do you think this policy is good and why do you think it is bad? Provide examples from your own experience or knowledge to support your answer.
In this above question, you are asked to do 2 things:
Write pros & cons
Give examples
Read what you have written
It is the main IELTS writing tips. Before you begin the next paragraph, go back and read the one you just finished. You could believe it's a waste of time. If that's the case, you'd be wrong. It's critical to connect your paragraphs, and what better method to do it than to read what you've written?
Be clear
The best helpful tip is to pick your best concept and write about it. That means you shouldn't write everything you know; leave some thoughts out. Don't worry if it's not your best explanation; instead, focus on whether it's the clearest. It is the second IELTS writing tip.
Write about what you know
The quality of your English is being assessed, not the quality of your ideas. As a result, you shouldn't be worried about obtaining the "correct answer." You'll need a simple concept that you can explain and justify. It is the third IELTS writing tip.
Follow the standard structure
You should follow the conventional format to gain the most points. Task 1 of the IELTS writing exam should be written as follows:
Introduction: describe what your graph shows.
Overview: main state trends.
Specific details: Provide data, and describe specific changes.
The following is an example of a great backbone for an IELTS Writing Task 2 answer:
Introduction: re-examine the topic and express your view
Body paragraphs: Each one should have a main idea, which should be mentioned in the first sentence.
Conclusion: Simply restate your opinion from the beginning.
Don't write too many words
Writing more than 300 words in task 2 and more than 200 words in task 1 is a bad idea. To begin with, it is difficult for the examiner to read large essays, therefore, your work will be examined less carefully. Second, you're more likely to make mistakes and have less time to double-check what you've written. It is the fifth IELTS writing tip.
Choose your writing style
In academic writing or an essay, never use informal language. You may be asked to write an informal letter just in general module task 1.
Don't learn model answers by heart
Don't memorize model answers; you'll get fewer points for this type of essay. There's a slim chance you'll get an essay exactly like the one you learned. And straying from the topic will result in a bad grade. Instead, focus on mastering the advanced language to include it in your answer. This way, you'll be able to use various words and phrases in different writings and show your extensive vocabulary. It is the seventh IELTS writing tip.
Don't branch off!
Only write in accordance with the theme. Don't include any information that isn't relevant. Even if you write a well-styled answer, if you wander from the subject, you'll get a considerably lower mark.
Write clearly and coherently
Avoid being redundant by not repeating yourself with various words. Also, in Writing Task 2, ensure each paragraph includes a central idea. It is critical for IELTS Writing that each paragraph of your essay be well defined and includes its own major idea. This basic step ensures that your article is neat and well-organized. It is the ninth IELTS writing tips.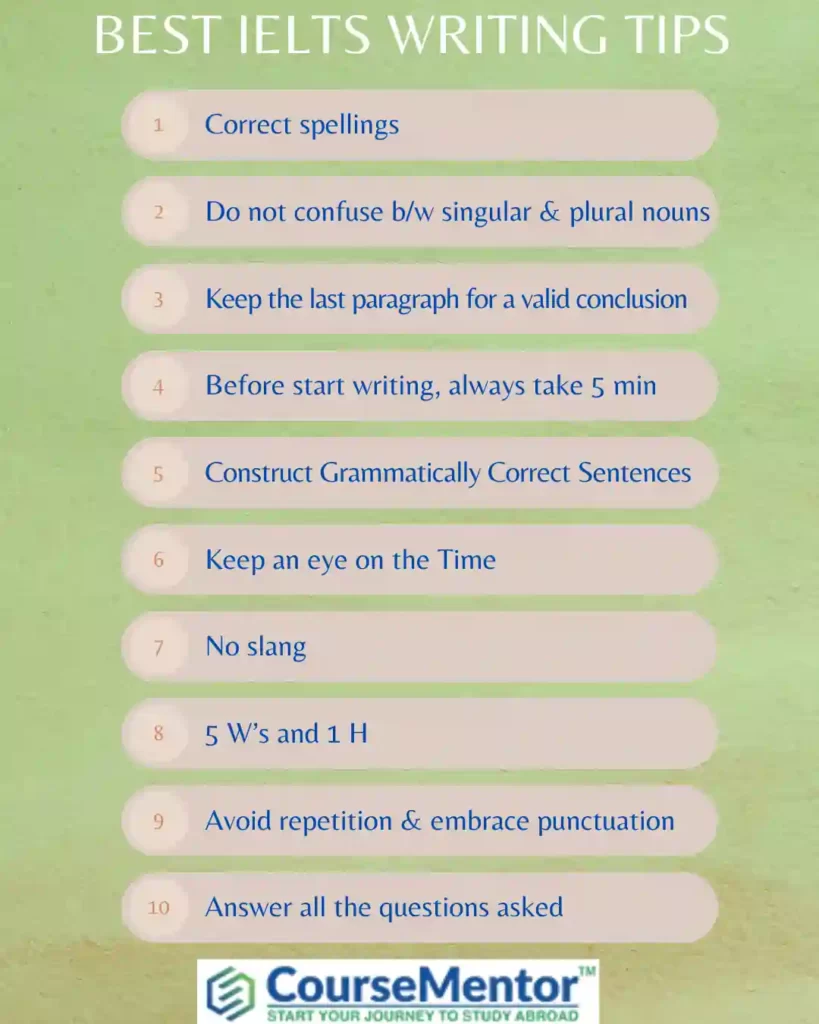 Correct spellings
It's important to remember that spelling is everything. In the IELTS exam, standard American, British, and Australian spellings are all allowed.
Do not confuse between singular and plural nouns.
It's essential to identify between singular and plural nouns. Always double-check your answers to avoid making this common mistake.
Keep the last paragraph for a valid conclusion
Keep the last paragraph of your essay for a valid conclusion to all of the points you've made in the answer.
Before you start writing, always take 5 minutes
Task 2 gives you 40 minutes to complete your essay. Always set aside five minutes to plan your answer before you begin writing and another five minutes to check for mistakes at the end. It is the fourteen IELTS writing tips.
Construct Grammatically Correct Sentences
One of the most important aspects that most exam takers failed to do was generate grammatically correct sentences.
It is critical to write grammatically correct sentences in IELTS writing since it makes a significant impact in both writing and speaking.
Furthermore, they will assist you in appropriately constructing sentences, showing to the examiner that you are more knowledgeable. It is the fifteen IELTS writing tips.
Keep an eye on the Time
One of the most important aspects of the IELTS (International English Language Testing System) writing test is time management. It is critical to maintaining track of time during the writing test. Furthermore, an hour is hardly a long time to complete two things.
Even if you don't know the answer, don't spend too much time on any question. Leave that one behind and move on. Finally, as you check the answers, try to answer the questions you left unanswered.
If you notice that the subject text is unfamiliar to you, remain cool; the text contains all-important answers. It is the sixteen IELTS writing tips.
No slang
IELTS tests determine whether a learner is using English correctly. In writing essays, bad words or slang must be avoided. It will lower the quality of your writing and your grades.
5 W's and 1 H
When you first read the question and look for the ideas, ask yourself what, when, why, where, who, and how.
This will clarify what the examiner has asked you in the question.
These will help you get a proper understanding of what you can write. It is not necessary that in all questions you can answer all these (5 W's and 1 H).
It will give a clear idea to you about questions, and you will be able to write more clearly and freely.
This is one of the must-follow IELTS writing tips that students can not miss.
Avoid repetition and embrace punctuation
It would be best if you did not repeat a word again and again; instead, you can use its synonym that will work as vocabulary.
If you use a simple or dull word again and again in your writing, then the examiner may think that you have a poor knowledge of the language.
Lexical resources (vocabulary, right use of punctuation, spelling accuracy) is one of the four criteria based on which your writing is scored.
The other 3 criteria are
Task achievement
Cohesion
Grammatical range & accuracy
So use punctuation wisely in your content to get a high score. You must follow this, one of the best IELTS writing tips, for a high band score.
Answer all the questions asked
We have saved this tip for last because this is one of the most important IELTS writing tips. You must answer all the questions asked.
If you do not answer all the questions, then you will be failed to satisfy the task achievement criteria.
You won't get a band score greater than 5.5 if you do not answer all the questions asked. So to get a good score, answer each question.
Common Mistakes Students Make In IELTS Writing
Here are the 6 most common mistakes students commonly make in the IELTS writing module,
Not providing enough paragraphs – There must be at least 4 paragraphs (Introduction, Body paragraphs 1 and 2, Conclusion) in IELTS writing tasks 1 and 2.
Not using the proper format.
Not answering the question properly.
Not giving the proper view.
Spelling errors.
Using memorized language.
Conclusion
In this blog, we have discussed the 20 best IELTS writing tips you must follow to get a good score.
If you are still facing any difficulty, you can contact our expert tutors. Our experts can read your writing and can guide you where you need to make improvements.
You can click here for exam preparation material.
We hope we have cleared all your queries about IELTS writing tips. For more content like this, keep visiting CourseMentor™.
FAQs
Which section of IELTS is toughest?
The writing module of the IELTS exam is considered the toughest module of the IELTS exam. Most of the test takers failed to get the required band score in this section.
Is IELTS very difficult?
Yes, you do not prepare for the IELTS exam properly you may find the exam difficult. But you can easily get your desired band score in the IELTS exam just by preparing for the exam with full concentration and following some tips and tricks.