Many students want to pursue higher education in countries like the United Kingdom, the United States, Canada, Australia, and others.
Students from non-native English-speaking countries must give an English language test to get admission to international universities.
IELTS (International English Language Testing System) is one of the best exams accepted in all countries for admission to international universities or institutions in native English-speaking countries.
If you want to get admission to international universities, you will have to crack the IELTS exam, where English is the primary communication language.
So, to make things easy for the students, we have provided the best tips on how to crack IELTS. So let's start with what is IELTS?
What is IELTS?
The International English Language Testing System (IELTS) is a standardized test that evaluates aspiring candidates' English language skills on a 9-band scale.
The test assesses a student's abilities and command of the language in four essential aspects: reading, listening, writing, and speaking.
The British Council, IDP Education, and Cambridge Assessment English jointly own and administer IELTS.
Why Is IELTS Important?
Students often doubt how important IELTS scores are during the admission process.
So, here's how it works:
The institution and visa-granting authorities must ensure that a candidate has a strong command of the language, which is necessary for academic and professional success in English-speaking countries.
The exam results assist them in determining a candidate's skill to use the language successfully in a variety of situations.
IELTS is accepted and recognized as a prerequisite for admission to universities and colleges in English-speaking countries.
The test is accepted by all universities and colleges in the United Kingdom, Australia, and more than 3400 institutes in the United States. Also, the test is accepted by most universities and colleges in Canada, New Zealand, Ireland, and many other countries.
However, there's more:
The test is extensively used for citizenship and immigration applications in Australia, the United Kingdom, Canada, and New Zealand.
Types Of IELTS Test
There are two types of IELTS tests:
IELTS Academic
IELTS General Training
IELTS Academic
This test is for those people who want to do their further studies abroad.
IELTS General Training
This test is for those candidates who go abroad for a job or internship. Or want to live abroad permanently.
How To Crack IELTS Exam With 8 Bands
Your IELTS preparation must be extensive to get a good score. Here are some tips on how to crack IELTS to improve your test scores:
Understand the structure
Identify Reading Techniques
Listen to audio clips
Speak to Someone Fluent in English
Take Mock Tests
Enroll On CourseMentor™'s Online IELTS Program
Practice Makes a Man Perfect
Proper Guidance
Don't leave any questions
Don't stress yourself.
Work on vocabulary.
Focus On Speed
Understand the structure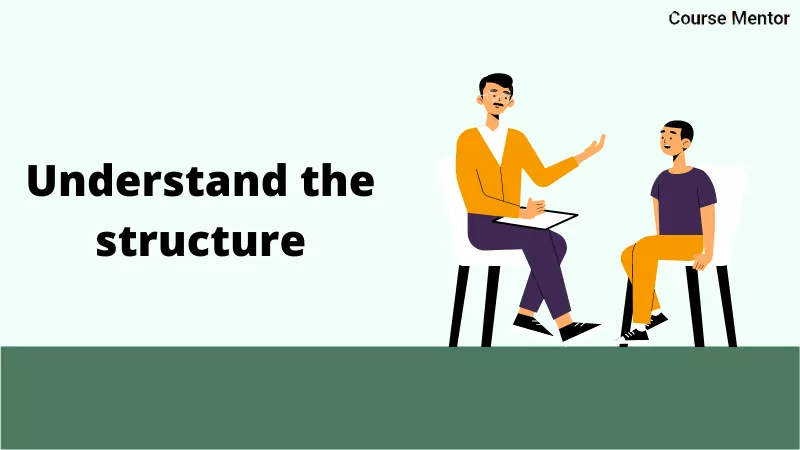 It is very important to understand the exam's structure.
There are four sections in IELTS Reading, Writing, Speaking and Listening.
You need to give mock tests because it will help you to understand the different types of questions.
If you know the IELTS pattern, then you can confidently tackle all the IELTS questions. It is the first tip on how to crack IELTS.
Identify Reading Techniques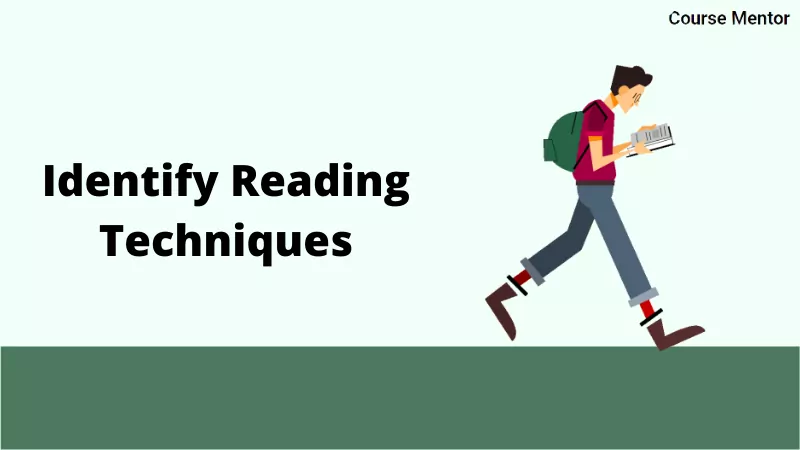 Anyone who has passed the IELTS exam will tell you that reading strategies can help you pass this section.
The most important technique is to skim and scan a passage without reading every word. It is the second tip on how to crack IELTS.
Listen to audio clips.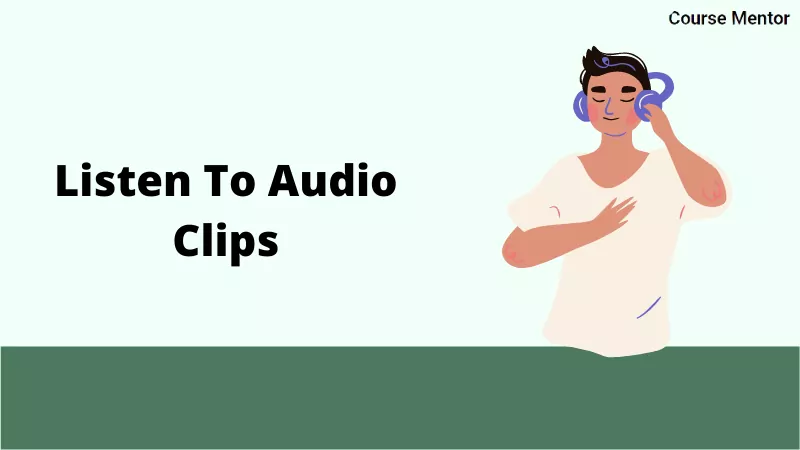 Listening to various audio recordings online is a great way to improve your IELTS score. You should be aware of the different accents and tones. It is the third tip on how to crack IELTS.
Speak to Someone Fluent in English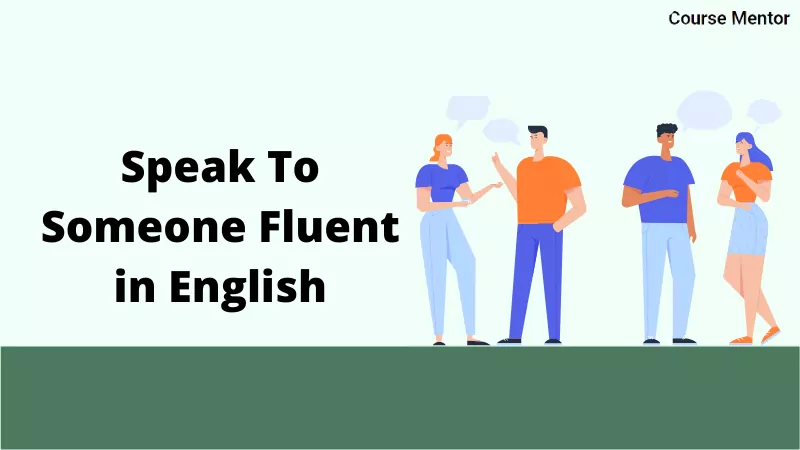 Instead of practising alone, you should speak with someone fluent in English.
Speaking English with your friends and family daily will help you gain confidence and become more comfortable with the language. It is the fourth tip on how to crack IELTS.
Take Mock Tests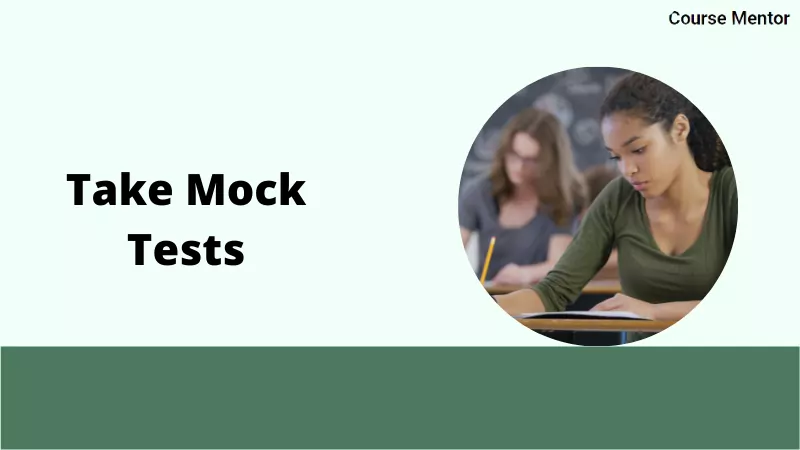 Many websites provide free mock IELTS examinations to help you pass the exam. You can also get books that contain mock test papers.
Get your hands on as many practise tests as you can and take them over and over again. It is the fifth tip on how to crack IELTS.
Enroll On CourseMentor™'s Online IELTS Program
Sometimes the self-study process becomes hectic and directionless, and you can't afford to put your study abroad goal on hold.
In such cases, enrolling in an IELTS preparation course is a wise choice for completing IELTS in one sitting. It is the sixth tip on how to crack IELTS.
Practice Makes a Man Perfect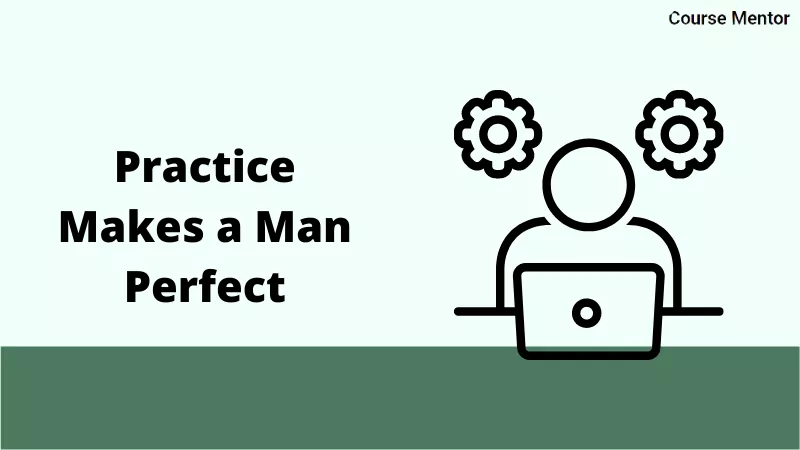 Practice is an essential factor in achieving success on any of the exams.
Practising regularly to pass the IELTS exam on the first attempt is critical.
The development of language skills in all four modules is essential. Following a regular study, the schedule can help you improve these essential skills.
Cracking the examination gets easier when a regular study schedule is maintained, precisely what applicants should do to pass the IELTS exam. It is the seventh tip on how to crack IELTS.
Proper Guidance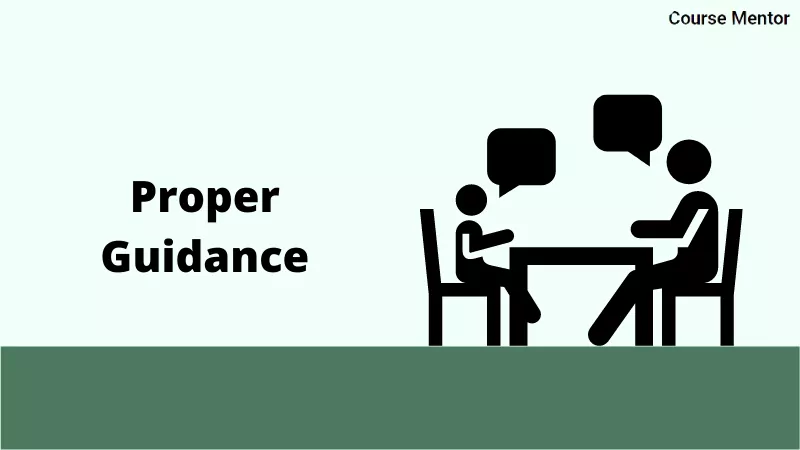 One of the most important aspects of passing the IELTS exam is having proper guidance.
The IELTS examination is indeed challenging to pass.
As a result, correct skills in all four separate modules as examined in the examination and good test-taking skills are being developed.
However, coaching from experienced and skilled teachers will always assist you in adequately recognising your potential and boosting your confidence before taking such life-changing exams. It is the eighth tip on how to crack IELTS.
Don't leave any questions.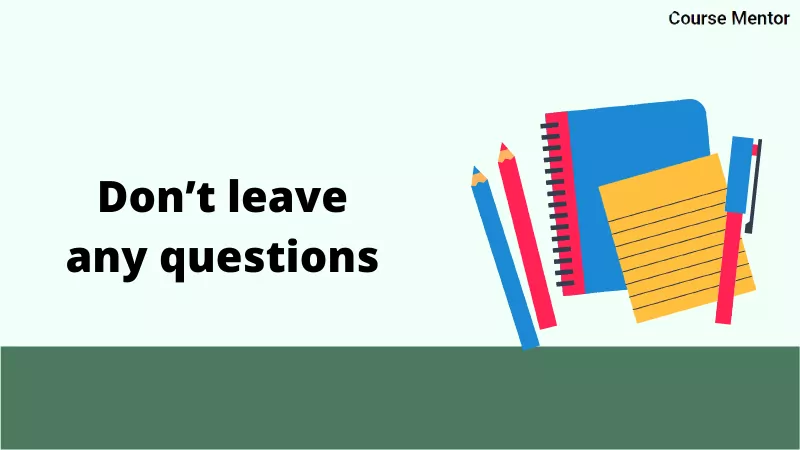 IELTS is an exam that evaluates your language abilities.
During the speaking examination, the examiner wants you to speak, and when assessing your writing skills, you should write.
They won't tell if you're eligible to pass the test if you leave them with silence or blank spots.
As a result, leaving/skipping any question is not beneficial to either the examiner or yourself.
The listening and reading assessments follow the same rule. Any queries you leave will be marked as wrong. It is the ninth tip on how to crack IELTS.
Don't stress yourself.
When taking the IELTS test, it's natural to feel under pressure.
It's crucial to realise, though, that no one performs well when they're under a lot of pressure.
Expert tips to keep your nerves in check so you can reach your full potential. Before the test begins, you can do some breathing exercises.
Additionally, eating healthily and sleeping well the night before the test is beneficial.
The secret to a stress-free exam experience, on the other hand, is proper test planning and preparation ahead of time.
Work on vocabulary.
It is unnecessary to use the longest English words, but you should avoid the most widely used terms.
It is incredibly beneficial to have a good vocabulary.
To give an idea of the strength of your English language vocabulary, use positive and lesser-known words.
Tips On How To Crack IELTS In 10 Days
Tips For IELTS Writing
You should have worked on Vocabulary
In writing task 1, don't write more than 150 words. In writing task 2, don't write more than 250 words.
Don't do Grammarly mistakes because you can get nothing if you do Grammar mistakes.
Write letters and essays daily for practising
Pick any topic and write about it.
You should always focus on writing a letter as per the format in IELTS writing task 1.
It is very important to write good introduction and conclusion for both IELTS writing tasks.
Tips For IELTS Reading Section
Read every day as per as you can
Always practice difficult and complicated passages before taking the IELTS exam
You should increase your proficiency in English grammar.
You should practice within a particular time.
Always read the question first
After writing all the answers double check those answers.
Tips For IELTS Listening
Before the audio clip start read all the questions at the beginning
Focus on the introduction of the audio clips
Watch TV shows, and News in English
Words indicators and words are very important
Eligibility Creteria Of IELTS Exam
There are only 2 main conditions for giving IELTS exam.
1. You must be at least 16 years of age.
2. You must have a valid passport.
What Is The Fee For IELTS?
Currently, its fee ranges around 15,000, but it can be more or less according to the time.
What Is The Validity Of IELTS Certificate?
The validity of IELTS certificate is 2 years. This certificate is not valid after 2 years, so keep this in mind.
What is IELTS Band Scale System?
If you get a band between 1 to 9 in the IELTS exam, then you can know it in the scale system given below. What is your position in the band you have received in the English language? How are you a student in English language according to IELTS?
The IELTS Band Scale System
Band Score 9
Expert User
Band Score 8
Very Good User
Band Score 7
Good User
Band Score 6
Competent User
Band Score 5
Modest User
Band Score 4
Limited User
Band Score 3
Extremely Limited User
Band Score 2
Intermittent User
Band Score 1
Did Not Attempt The Test
What Is The Paper Format of IELTS?
The paper format of IELTS Test consists of Listening, Reading, Writing and Speaking. But as we have told you above two types of IELTS, IELTS Academic and IELTS General Training. There is a difference between reading and writing. The rest is the same in both Listening and Speaking types.
IELTS Listening
Listening test is taken first in IELTS exam. In this, you have to answer the questions asked by listening to the conversation of Native Speakers. Listening is of full 40 minutes. In which 30 minutes are available for listening to Tape Script and 10 minutes for writing your answer on the answer sheet and it has 40 questions and 4 sections. On the other hand, if we talk about the question types given in Listening. So there are four types of questions in this. which is as follows-
Fill In The Blanks
Diagram A Label
MCQ ( Multiple Choice Questions )
Statement Completion
IELTS Reading
IELTS Reading is of 1 hour duration and consists of 40 questions. There are 3 passages in Academic Reading and 5 Passages in IELTS General Training reading. There are five types of questions in IELTS Reading. which are like this.
Fill In The Blanks
MCQ ( Multiple Choice Questions )
True/False/Not Given Questions
Yes/No/Not Given Related Questions
Correct Headings Choosing Questions.
IELTS Writing
IELTS writing is also of full 1 hour, there are 2 tasks in it. Graph/Diagram/Map comes in IELTS Academic Task 1. Which has to be completed in 150-170 words and Essay comes in IELTS writing task 2. Which has to be completed in 250-275 words.
IELTS General Training has a letter in Task 1 of Writing. Which has to be done in 150-170 words and Essay is done in Task 2. Just like Academic IELTS Writing topics which has to be completed in 250-275 words.
IELTS Speaking
IELTS Speaking is of 11 to 14 minutes duration and consists of three sections.
Introduction and general questions are asked in Section 1, such that in this you will be asked to tell about yourself, the basic questions which are related to you.
In section 2, Cue Card means that you will be given a pen and a card, then you have to write your answer on that card in 1 minute and in 2 minutes you have to tell it by speaking what you would have written on that card.
Discussion in Section 3 The questions related to what you have written in the Cue Card will be considered, you will be asked questions.
Best Books for IELTS Preparation
Here are some best IELTS booksfor IELTS preparation:
The Official Cambridge Guide to IELTS
Cambridge IELTS 10 to 16
English Collocations in Use
English Vocabulary in Use
Barron's IELTS super pack
Official IELTS Practice Materials Vol. 1 & 2
Cambridge Vocabulary for IELTS
Cambridge Grammar for IELTS – with answers
IELTS Trainer – with answers and audio
Road to IELTS
IELTS General Actual Tests
Focus on IELTS Foundation Coursebook
How To Learn Vocabulary In The Effective Way?
The first step is to write down new words in a notebook.
Always speak new words again and again. An online platform is the best choice for learning new words and pronouncing them.
Create associations
Have someone to test you on the new words.
Use new vocabulary to practice for IELTS writing or speaking.
Conclusion (How To Crack IELTS)
In this blog, we have discussed 11 tips on how to crack IELTS score. I hope you have understood easily. IELTS is a vital examination for applicants who are willing to study, work or settle down in English-speaking countries. It is a high-level standardized English proficiency examination that can be cracked in the very first attempt with dedication, techniques, and hard work.
How To Crack IELTS FAQs
How many times can you register for the IELTS examination?
There are no restrictions regarding the number of times you can apply for the IELTS examination. You can give the IELTS exam as many times as you want. So if you're going to get a better score than you did, or if you forgot your examination, you can register again.
What is the accepted IELTS score for eligibility at the top colleges?
Many universities and colleges require a score of 7+ band score. Some colleges and universities also accept a band score of 6.5. 
Can I crack IELTS in 1 month?
There is no specific plan to study for IELTS exam. However, the plan can be customized based on your convenience and time. If you just have 30 days to study and not enough time to prepare for the IELTS exam? Don't worry, with proper planning, you can get your IELTS score in very short period.