If you want to achieve 8 bands in your IELTS Writing Task 2, you will need an essay with all the positive features in the 8 band criteria.
IELTS is a precious English language test because it is acceptable in most countries and colleges around the world as proof of the proficiency of a candidate in the English language.
You're wrong if you think it is effortless to get 8 bands in IELTS Writing Task 2. The only thing that helps you clear this test is complete knowledge with proper guidance and Practice. So, here this blog will help you with IELTS writing task 2 and provide you with all the content to achieve your dream IELTS score.
So, without further ado, let's get started. But firstly, let's know what IELTS Writing Task 2 is?
What is IELTS Writing Task 2?
This is the second part of the IELTS Writing Test, where you are presented with a point of view, argument, or problem and asked to write an essay in response.
You can write your essay in a formal style and with at least 250 words. It would be best if you aimed to complete it in under 40 minutes.
Everything You Need to Know: IELTS Writing Task 2
If you're new to IELTS or if you've failed the exam before, it doesn't matter. I've broken everything down into some simple steps that anyone can use to improve their score.
Answer all parts of the question
IELTS Writing Task 2 requires you to write an essay in response to a statement. You must read the question carefully to cover all parts of your answers.
You must understand the question before you are going to answer it. In this manner, you'll know exactly what the examiner is looking for. In most cases, students are not answering the question entirely. As a result, this stops them from getting a score higher than 5 or 6 bands.
If you want to score 8 bands in your IELTS writing task 2, you have to analyze the question first. In order to analyze the question, you must first identify the question type, and main keyword and finally identify the instruction words.
This will help you better understand the question, and you get to know what the examiner wants you to do with the question.
Present a clear position
Although you present different points of view in your essay, you must first present a clear position. In other words, this means you must let the examiner know what you think about the topic. Your main must be clear for the complete essay. To give a clear opinion about the topic, please don't change your mind in conclusion.
You get 40 minutes to complete your IELTS Writing Task 2, the students who get the highest marks always plan their answers for up to 10 minutes before writing anything. Planning helps you to organize your idea and helps you structure your essay before you even write it. As a result, that will save your time and help you produce a clear and well-organized answer.
Some examples of How to Present a Clear position
Topic: Wild animals should not be kept in Zoos.
Both views put forward reasonable points.
However, many people feel that.
I firmly believe that wild creatures should not be kept in zoos.
Structure your essay
Always Write an Introduction to structure your essay. The Introduction will indirectly tell the examiner what the rest of your essay is about. From this, the examiner knows what you are doing straight away and helps you write your main body paragraph. Present your ideas in a structured manner using paragraphs. Use the following points to structure your essay.
Present ideas that are important, and then you can elaborate on them further.
Include your opinion in the essay about questions.
Develop a clear idea within each paragraph.
You can make it easier for the examiner by adding or leaving space between each paragraph.
Use connecting devices.
Linking devices or transition words connect words and phrases that make your answer cohesive. It is like the glue that sticks your sentences and ideas with one another. The below table shows some transition words that are frequently used in essays.
| | |
| --- | --- |
| On one hand | On the other hand |
| Whereas | Similarly |
| Because | Firstly |
| Despite | As a result |
| Another | Although |
| Therefore | Undoubtedly |
| In conclusion | Nevertheless |
| However | For example |
| In addition | Regardless |
| Consequently | Finally |
Make use of a variety of vocabulary.
Writing allows you to share your thoughts and ideas with the reader. Therefore, always use easy-to-understand vocabulary and muse those words that you can easily spell. This proves to the examiner that you have and can use a wide range of vocabulary. However, in the end, always check for spelling errors and typos. In your essay, use words that go naturally together, like idiomatic and collocation language.
Examples of idiomatic language and phrasal verbs:
To be cared for
Close down
Make money
Chance to see
Looked after
Examples of collocation:
Tourist attraction
Alternate ways
Rare species
Natural habitat
Correct Your Grammatical Mistakes
You need to master both simple and complex sentences if you are aiming for band 8. Make a well-designed grammatical-error-free structure. So, how do you think you can achieve that? The simple answer is by Practice.
You can try out different sample test papers and analyze the mistakes you usually make. As a result, when you keep practicing different sample papers, you will automatically improve your writing skills, and you can quickly write an error-free essay on any given topic.
Examples of grammatical structures
| | |
| --- | --- |
| Articles | Most importantly, they attract tourists and make money for (the) city; visitors get (a) chance |
| Plurals | We frequently see news story (stories) |
| Subject/verb agreement | because they is (are) not in natural |
| Prepositions | wild animals at (in) their country  |
| Punctuation | Most importantly, they attract tourists and make money for the city. |
Examine your essay carefully.
Always double-check your essay after you complete it. This will make you confident about what you write and let you know that you answer all the questions given on the topic. Make sure that there are no spelling and grammatical mistakes. In order to eliminate these types of mistakes, always ask yourself the following questions after you complete your writing task.
Did I answer all parts?
Did I use paragraphs?
Did I use linkers?
Did I use punctuation?
Did I check my work?
Is my spelling correct?
Did I use complex sentence structures?
Always write a Conclusion.
The main aim of the conclusion is to provide a summary of what you already said in the rest of your essay. Always try to add a conclusion to your essay to achieve your desired score.
So, if you want to score better in IELTS Writing Task 2, you should always follow the instructions that we provide above.
IELTS Writing Task 2 Essential Information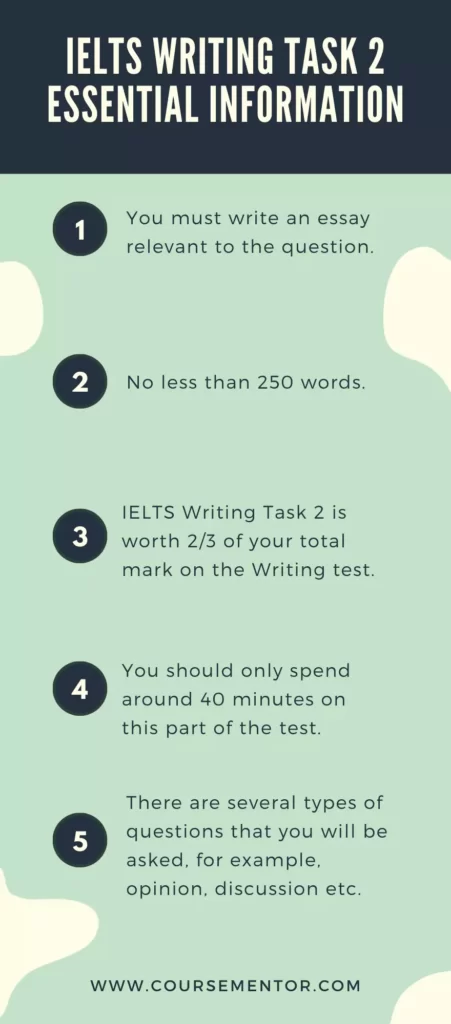 You must write an essay relevant to the question.
No less than 250 words.
IELTS Writing Task 2 is worth 2/3 of your total mark on the Writing test.
You should only spend around 40 minutes on this part of the test.
There are several types of questions that you will be asked, for example, opinion, discussion, etc.
Conclusion
In this blog, we provide you with everything you need to know about IELTS Writing Task 2 to achieve 8 bands. Here's a quick overview of what we have learned.
Answer all parts of the question and use a well-designed structure. Avoid grammatical errors by simplifying complex sentences. Make use of transition words to ensure smooth flow while reading and at the end, always add a conclusion.
This is the end of this blog, Hope you like it.
FAQs
Q1. IELTS Task 2 Essay Structures?
Ans. Essay Structure
Introduction 
Main Body Paragraph 1
Main Body Paragraph 2
Conclusion
Q2. What is IELTS Writing Task 1
Ans. The IELTS Writing Task 1 asks you to write a summary of at least 150 words. The IELTS Writing Task 1 is about some visual information, usually in the form of a graph or chart. You will need to pick out the main features from the graph and describe and compare the given data.