Australia was always a popular destination for people looking to relocate to another country. The country has perks, such as a growing economy, which implies greater work chances. The country's living standards are very high. Australia is a dazzling place and filled with popular sites.
My sister works in Australia. She visits our home once a year and brings with her great stories along with many gifts. While listening to her experiences I am thinking about what is the age limit for permanent residency in Australia. She says that getting a Permanent Residency in Australia might be difficult and has an age limit. But, It is worth every hardship.
Immigrants to Australia are eligible to seek permanent residency, sometimes known as a PR visa. The Australian PR visa is valid for five years. You can relocate to Australia with your family if you hold a PR visa. You can also get permanent citizenship after 4 years in Australia. Here you will know about the age limit for permanent residency in Australia. Generally, most Australian visas, however, include an age limit of 44. This implies that anyone beyond the age of 45 is not eligible for an Australian visa.
What is an Australian visa?
Permanent residence in Australia permits you to work and live in the country for five years. After four years of formal labour, you can convert your status to citizenship. You can also migrate to Australia with your family if you have a PR visa. The age limit for permanent residency in Australia is 44. No one beyond the age of 45 can get it.
Advantages of PR in Australia
The following are the advantages if you are under the age limit for permanent residency in Australia-
The freedom to live, work and settle wherever in the country
Official authorization for family members to accompany
Education is free for youngsters up to a particular age
Possibility of sponsoring relatives for permanent residency
Work and health advantages for oneself and one's family
Eligibility for PR in Australia
To be eligible for permanent residency in Australia, you must satisfy the following requirements and age limits-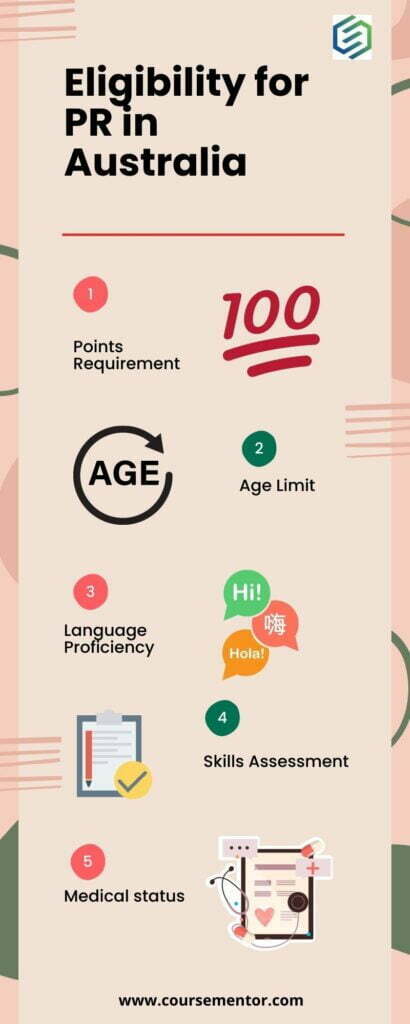 Points Requirement: Under the Point's Grid, you must score at least 65 points.
Age: The age limit for permanent residency in Australia is 45 years
Language Proficiency: A maximum of 20 points can be earned with an IELTS score of 8 bands. However, the Australian immigration authorities permit candidates to take an English proficiency exam, including IELTS, PTE, and TOEFL. You can attempt to achieve the needed score in any of these tests.
Skills Assessment: A skilled job in Australia with 8 to 10 years of experience from the date of application will get you a maximum of 20 points. A skilled job outside of Australia with more than 8 years of experience in the previous 10 years will get you 15 points, whereas fewer years of experience will earn you fewer points.
Medical status: You must have good health while applying for PR. A good character is also necessary.
Procedure to get PR in Australia
The following are the steps to get an Australian Permanent Residency after verifying your age limit-
After examining your eligibility, you must have at least 65 points.
Select the appropriate skills assessment body for the first phase of the Australian procedure.
Apply for "talent choice (pool system)" after successfully assessing your education and job experience.
You will be sent an "Invitation to Apply" (ITA) for the final round based on your score.
Within 60 days of getting the ITA, apply with DIBP for the last stage of the procedure.
Once you have submitted your medicals and PCC, your visa will be approved.
Key Requirements for getting PR in Australia
Any citizen can seek permanent residency in Australia as long as you fulfill the requirements. Age limit is one of the most essential of these. If you are a competent professional who meets all of the conditions listed above and has received at least 65 points in the Australia Point Calculation System, you must provide appropriate settlement money as proof of your capacity to support yourself and your family in Australia. Here are some important prerequisites for Indian people who want to go to Australia-
Certificates of education
Language competence in English
Certificates of work experience (if applicable)
Travel documentation (passports, permission to migrate from relevant authorities)
Certificates of medical and police verification
Evidence of settlement monies (bonds, bank accounts, cash, shares, etc.)
Processing time for PR in Australia
Skill assessment: 45 to 60 days
To assess your skills, you must first have your education and job experience evaluated. This must be done with the assistance of an authorized skill assessment body.
Interest Expression: It is determined by your score.
There are no set timeframes for completing this step. The processing time is entirely determined by your score. You must submit your application online at this point. The Skill Select stage is now active.
Visa applications: It must be submitted within 60 days after receiving an invitation to apply. Following receipt of your ITA, you must submit your final visa application to the DIBP.
Visa Acceptance: Following the submission of the appropriate documentation, the DIBP conducts an extensive study. Once they are pleased with your information, they will award you a visa.
Thus, you will get a PR in Australia after completing these steps. But make sure that the age limit for permanent residency in Australia is 44. However, for those who are above 45 years of age, they can only get PR under specific conditions.
The primary visa applicant must be under 45 years old when the visa application is submitted. During the Department's processing time, the principal applicant might become 45 years old or older after lodging the visa application.
There are only a few exceptions to this condition for candidates who are 45 or older at the time they submit their visa application, which are mentioned below-
1. You are nominated under the Temporary Residence Transition stream, and you have worked for your nominating employer for the last three years, earning at least the Fair Work High Income Threshold in each of those three years.
2. You are a New Zealand citizen with a Subclass 444 visa, or the sponsored partner of a New Zealand citizen with a Subclass 461 visa, and you are sponsored by a company for which you have worked for at least two years (excluding any periods of unpaid leave) in the three years preceding your application (Direct Entry stream only)
3. You are applying under the Temporary Residence Transition stream, you have been nominated for a medical practitioner occupation (all medical practitioner jobs beginning with ANZSCO code 253), and you fulfill all of the following requirements-
Working in your specified occupation as a 482 or 457 visa holder for at least three years before applying
You worked in regional Australia for at least two of these three years.
Your present employment has been nominated in regional Australia.
4. You are nominated under a Labour Agreement stream, and the appropriate Labour Agreement for the firm enables the Primary visa applicant to fulfill the age limit of 45 years at the time of visa application.
5. Religious ministers appointed by a religious organization
6. Nominated by an Australian government agency, researchers, scientists, and technical professionals with ANZSCO competence levels 1 or 2.
7. Senior professors hired by an Australian university
Conclusion (Age limit for permanent residency in Australia)
Many individuals question what is the age limit for permanent residency in Australia and its benefits. From the above discussion, all your doubts are clear. You may get a lot of perks if you have PR in Australia. If you have permanent residency, you can live, work, and study in Australia indefinitely.
In Australia, you may sign up for Medicare to get public healthcare services. The Australian government gives permanent residents the same privileges as other Australians.
FAQs (Age limit for permanent residency in Australia)
How much money do I need to receive a PR visa to Australia?

The overall cost of your PR visa is determined by the kind of visa you apply for, application fees, medical examination fees, English language test fees, health insurance, number of dependents, flight to Australia, and other expenditures.
What is the simplest way to obtain permanent residency in Australia?

With a master's degree, a solid English score, and employment experience on Australia's skills list, you can obtain permanent residency in Australia within a year. If you have the necessary points, you will be chosen and will receive a PR even before you come to Australia.
Applicants with 65 or more points are invited to apply quite fast. You could anticipate acquiring your PR within 5-8 months of applying. The quickest way to obtain permanent residency in Australia is also determined by the immigration program for which you apply. Each immigration program has its own set of qualifying requirements, conditions, and selection criteria.