Canada is one of the top countries with immigrants seeking permanent residence. And why not? With the benefits it provides, anyone will be attracted to it. Free health care facilities, best educational institutes giving excellent education. High living standards, a Clean environment, and the list continues. Not only that very easy procedure to apply for PR which results in people rushing to get PR. However, even if anyone can get a PR there are still certain criteria you must fulfill in order to avoid complications. Here You will know about the PR criteria for Canada that you must fulfill.
What is PR?
You can use your PR card to verify that you are a permanent resident of Canada. When going outside of Canada, you must show your card as well as your passport when returning. Permanent residents and Canadian citizens share common rights. They must, however, retain some requirements, such as residence obligations, unlike Canadian citizens.
After an examination and a comprehensive application process, candidates are granted PR Visas. To evaluate applications, several qualifying criteria are applied. Their ability, other PR criteria, and potential to contribute to the Canadian economy are evaluated.
PR criteria for Canada: Different types of PR
Canada offers approximately 60 migration options to potential immigrants. The Express Entry Program, the Provincial Nominee Program (PNP), and the Quebec Skilled Workers Program are the most popular (QSWP).
Among these, the most popular is the Express Entry program, which is a government selection method. To streamline the selection process, the Canadian government introduced the Express Entry program in 2015. This software is designed to filter applications using a point system. As a result, only the most competent candidates are picked. This program is broken into three parts-
1. Federal Skilled Workers Program (FSWP)
2. Federal Skilled Trades Program (FSTP)
3. Canadian Experience Class (CEC)
To be qualified for the Express Entry program, you fulfill the PR criteria in at least one of these categories as an application. In a way, the categories for awarding points under the Express Entry method are the criteria for the PR selection process.
To be eligible to apply for a PR visa, the candidate must get a certain number of points. The Comprehensive Ranking System (CRS) is another name for the points system, and the total amount of points scored by a candidate is referred to as the CRS score. These points are very important PR criteria.
The factors affecting CRS and the points awarded for each criterion are mentioned-
Age: 12 points
Education: Max 25 points
Work Experience: Max 15 points
Language Skills: Max 28 points
Adaptability: Max 10 points
Arranged Employment: Max 10 points
PR criteria for Canada: Procedure to get a PR
The following is the procedure to apply for permanent residency in Canada-
Complete your education credentials evaluation (ECA)
Obtain the necessary IELTS score.
Examine your eligibility. You must score 67 points in CRS.
Create an Express Entry profile and apply through the online pool. In addition, submit an application to WES for an Education Credential Assessment.
Fill out the Express Entry application. While staying, mark all of the provinces.
Sign up for the Job Bank.
Receive your Application Invitation (ITA)
Canada Citizenship and Immigration will conduct the necessary medical and criminal background checks.
You will have 60 days to gather all of the necessary documentation and apply for the final step.
The CIC will next require you to have a medical test, and once your experience documents have been validated, you will be requested to submit your passport to the Canadian Embassy.
Finally, have a visa stamped on your passport.
PR criteria for Canada: Documents required for getting a PR
The following are the essential documents to fulfill all the PR criteria in Canada-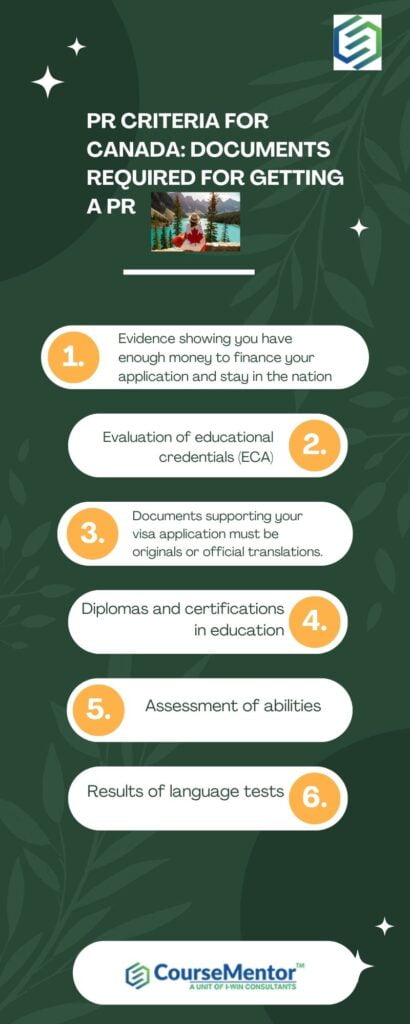 Evidence showing you have enough money to finance your application and stay in the nation
Evaluation of educational credentials (ECA)
Documents supporting your visa application must be originals or official translations.
Diplomas and certifications in education
Assessment of abilities
Results of language tests
Requirements for international graduates from Canada for PR
If you just graduated from a Canadian university or college, you must meet the following PR criterion to apply for a Canada PR (Permanent Residency) Visa-
In the last three years, you must have had at least one year of full-time work experience in a NOC, OA, or B vocation in Canada.
Work experience must be lawful and obtained after graduation. Work experience gained during graduation will not be considered.
An applicant must intend to work outside of the province of Quebec.
A minimum score in the language proficiency exam is required for an applicant.
Advantages of having Canadian PR
The following are the advantages of having a Canadian PR card-
A visa featuring multiple entries valid for five years.
A "family status" in which both petitioners (spouses) are allowed to work full-time.
Free schooling for kids, as well as health care services for the family members.
Possibility of inviting parents after settlement.
Entry to the United States.
PR Criteria for Canada: Losing your Permanent Resident status
When your PR card expires, you do not lose your permanent resident status.
Your permanent residence status may be revoked if you violate the following PR criteria-
After an inquiry or PRTD appeal, an adjudicator concludes you are no longer a permanent resident.
you voluntarily relinquish your permanent resident status.
a removal order is issued against you and becomes effective.
you become a Canadian citizen.
Even if you do not fulfill the residence requirement, you are still a PR until a formal decision on your status is made.
After getting your PR you can participate in various activities. However, you can not participate in political activities. Other than that, you can also not have jobs that require a high-level security clearance. Except for these, you can continue to work like Canadian citizens of Canada and even get facilities similar to Canadian citizens.
Lastly, you should beware not to participate in any illegal activities and violate rules. PR criteria of Canada are easy to fulfill. If you continue to live in Canada you can even get citizenship in Canada considering that you fulfill all criteria for doing so.
Conclusion (PR Criteria for Canada)
Every person dreams to be successful in their lives. Some pursue education in other countries that their countries don't have great knowledge of, some just want to work to earn a proper living. I have mentioned every criterion you might need to fulfill in order to be successfully getting your PR. If in the future you need any answers regarding PR criteria for Canada you just need to contact our experts.
FAQs (PR Criteria for Canada )
How can you improve your CRS score for Canada PR?

You may raise your CRS score under the Express Entry Program by following these easy steps-
Make an attempt for a provincial nomination.
Obtain a job offer from a Canadian company.
Increase your academic level
When applying, include your spouse or partner.
Gain more work experience
Retake your language test to improve your score.
Use the services of an immigration consultant.
What exactly is a National Occupational Classification (NOC)?

This is Canada's official occupational classification system. Applicants can use the NOC to determine whether or not an occupation is listed. NOC assists you in learning about the major functions and educational requirements for employment.