Businesses are discovering new methods to innovate and stay competitive as technology advances. Creating a minimal viable product (MVP) is one of the most common ways to test the market and validate a proposal. We advise on elements to consider when selecting an MVP development firm to guarantee that companies have the skills and assistance they need to produce a successful MVP.
Factors to Consider When Choosing an MVP Development Company
An MVP is a product with the bare minimum of functionality needed to test the market and see whether there is a demand for it. With minimal time and money, organizations may gain helpful input from people while confirming their concept. MVPs may be created for various goods and services, including software and mobile apps.
Using the services of a minimal viable product development business is one technique to create an MVP. These companies specialize in building MVPs for various sectors, and they have vast expertise in designing solutions that match the specific demands of their customers.
When looking for an MVP development firm, organizations should search for a team with experience in their field. The organization should have a thorough awareness of the market and the demands of its customers, as well as the capacity to create a product that fits those needs. In addition, the organization should have an entire development staff capable of producing high-quality code that is scalable and simple to maintain.
The Advantages of Creating an MVP
Several benefits may accrue to firms by developing an MVP. First, creating a minimum viable product development services is necessary to test the market and verify a concept. So, there are various advantages to creating an MVP, including:
Reduced Time to Market: Companies may speed up their time to market by developing a minimum viable product (MVP). Businesses may minimize needless development time and rapidly discover whether there is a demand for their product by concentrating on the crucial aspects.
Savings: Developing a minimum viable product (MVP) is cheaper than a fully functional one. Businesses may cut development costs by concentrating on the essential features and using the savings in other areas, such as marketing and user acquisition.
User Feedback: Organizations may receive helpful customer feedback using an MVP. This input may assist businesses in refining their product and improving their features to suit the demands of their consumers better.
Risk Reduction: Developing a minimum viable product mitigates potential financial loss from a failed market launch. Businesses may discover whether there is a market for their product by testing its key features, lowering the risk of investing in a full-featured product that may not be profitable.
By giving experienced direction and assistance throughout the development process, MVP development firms may assist organizations in realizing these advantages. These companies may assist organizations with defining the main characteristics of their product, developing a roadmap for the product's development, and creating a high-quality MVP that satisfies their specific demands.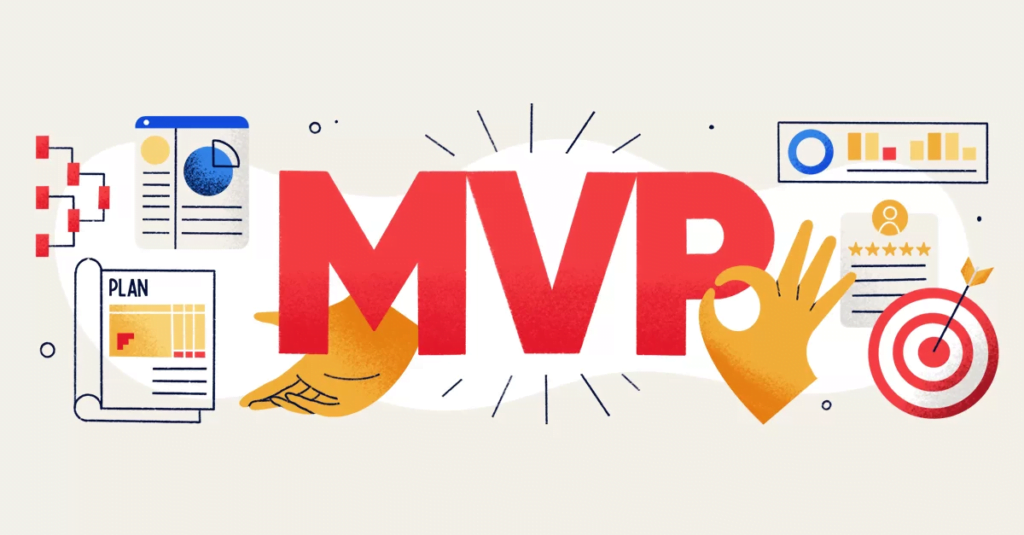 Common Errors in MVP Development
While creating an MVP might be an excellent approach to testing the market and verifying a concept, organizations make several typical faults while creating an MVP. These are some examples:
Focusing on Too Many Features: Trying to incorporate too many features is one of the most frequent errors firms make while developing an MVP. This strategy may result in longer development time frames and more significant expenses, diminishing the advantages of creating an MVP.
Not Focusing on the User: Another typical blunder is failing to concentrate on the user's requirements. Businesses must ensure that their MVP satisfies the demands of their target audience and is simple to use.
Not Collecting User Input: User input is critical while developing an MVP. Businesses can only modify and enhance their products with feedback.
By offering experienced direction throughout the story, working with an MVP development firm may help organizations avoid these frequent blunders. In addition, these organizations may assist businesses with defining the main aspects of their MVP, developing a roadmap for the product's development, and gathering crucial customer input to enhance the effect.
Conclusion
Creating an Minimum Viable Product might be a low-cost approach for firms to test the market and verify their concept. In addition, businesses may decrease development time and expenses while collecting valuable customer input by concentrating on critical functionality. Working with an MVP development firm might be an excellent alternative for companies wanting to create an MVP. These firms specialize in MVP development and thoroughly grasp the market and user requirements.
Also Read: How To Speak With An American Accent – 8 Useful Tips