Are you also one of those students who wants to crack the GRE? Is GRE preparation always on your mind? If yes, then don't worry. In today's guide, we will walk you through the best tips on how to crack GRE Exam, which will help you achieve success in the GRE.
To crack the exam, you have to prepare for the exam with some of the best tips that we will provide you in this article. But before you start preparing for the test, you should have the proper time to implement those tips in your practice phase because it will depend on your available time. Moreover, it also depends on your personal preferences of how to prepare. Before you appear in the GRE Test, you should know what to expect from the test. You should know the information, including the administrative procedures, types of questions and directions, approximate number of questions, and amount of time for each section.
Remember that achieving the best GRE scores will allow you to seek admission to your dream universities abroad. The question of how to crack GRE exam will definitely be a deciding factor in enhancing your chances of getting admission to the top universities of your choice. We know that the vast syllabus of the GRE takes much time to complete. Due to that, candidates need some tips to crack the GRE. So, let's dive into the article.
What is GRE Exam?
Before discussing how to crack GRE exam, let's discuss what is GRE. The Graduate Record Examination, or GRE, is a standardized test that is a crucial step in the admissions process for many graduate programs in the United States and worldwide. Whether you are aspiring to pursue a master's or doctoral degree, a good GRE score can significantly boost your chances of getting into your dream school. However, cracking the GRE requires careful preparation and a strategic approach. So, let's discuss various strategies and tips to score high marks on the GRE.
Overview of How to Crack GRE Exam
Among bachelor's students, the GRE test is a popular choice for studying graduate programs at top universities abroad. The GRE is administered and conducted by the ETS ( Educational Testing System ) globally once every 21 days. So, cracking the GRE will be successfully done by creating a well-planned study plan on how to crack GRE Exam. Now, let's discuss some preparation tips for cracking the GRE test.
GRE Section-Specific Tips
The GRE Exam includes three sections: Verbal Reasoning, Quantitative Reasoning, and Analytical Writing. Let's discuss all these three sections in detail to know some of the best tips for each section.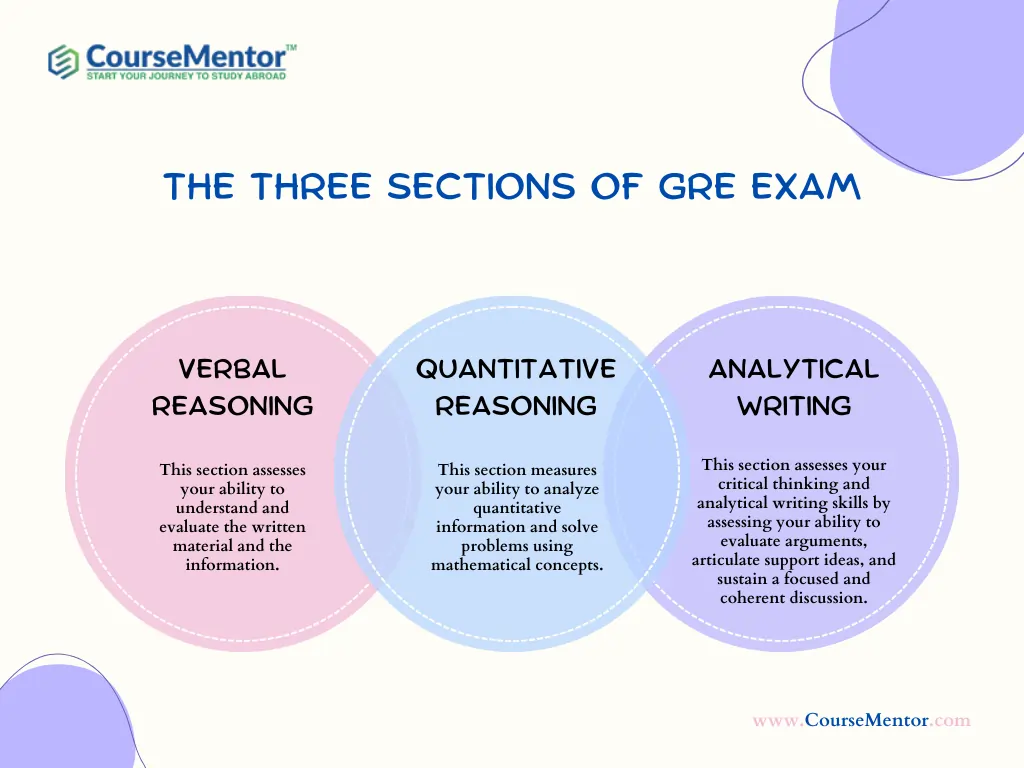 Verbal Reasoning
This section assesses your ability to understand and evaluate the written material and the information obtained from it. Furthermore, it also assesses a candidate's ability to analyze the relationships among parts of sentences. Also, it analyzes whether a candidate can recognize the relationship among words and concepts.
In addition, it consists of two sections containing 20 questions. Each section lasts for 30 minutes. The questions in this section will be in the form of reading comprehension, text completion, and sentence equivalence. Here are some tips on the Verbal Reasoning section of the GRE Exam:
Read the passage carefully and ensure you understand the main idea before answering the questions.
Make a habit of practicing different types of questions, such as text completion and sentence equivalence.
Remember to take notes while you read the passage because it will help you to remember the important information.
Use the right reference books to prepare for the examination.
In the questions, try to identify the keywords and phrases so that you can use them to find the information in the passage.
Now, let's move to the second section of the GRE.
Also Read: GRE Vocabulary Books – 5 Best Books To Score Good Marks
Quantitative Reasoning
This section of the GRE assesses your basic mathematical skills and understanding of elementary mathematical concepts. It also measures your ability to analyze quantitative information and solve problems using mathematical concepts. In this, there are two sections containing 20 questions. Furthermore, each section lasts for 35 minutes. Quantitative reasoning questions appear in quantitative comparison, problem-solving, and data analysis formats.
Here are some tips on the Quantitative Reasoning section of the GRE Exam:
Firstly, learn how to use a calculator effectively.
Brush up on basic mathematical concepts such as geometry, trigonometry, data interpretation, etc.
Make a habit of finding out the key information in the problem so that you can use it to find the solution.
Study different books published by ETS to improve your reasoning skills, such as " The Official Guide to the GRE General Test".
You can practice solving problems under timed conditions to improve accuracy and speed.
Now, let's move to the third section of the GRE.
Analytical Writing
This section of the GRE test assesses your critical thinking and analytical writing skills by assessing your ability to evaluate arguments, articulate support ideas, and sustain a focused and coherent discussion. It consists of two tasks which last for 30 minutes each.
The first task is an "Analyze an Issue" task, in which an aspirant is asked to present his or her viewpoints on a given issue. The candidate must speak on the given issue by supporting it with relevant reasons and examples. The second task is an "Analyze an Argument" task, in which the candidate is asked to critique an argument by analyzing its reasoning and evaluating its evidence.
Here are some tips on the Analytical Writing section of the GRE Exam:
You should first plan your ideas before starting to write.
To make your article more attractive, you can use specific examples to support your points.
After planning, you can organize your essay in a clear and logical manner.
While writing, remember that the scoring system is looking for a clear and well-supported argument.
To improve your speed and clarity, practice writing under timed conditions.
This is all about the GRE Section Specific Tips. Now, let's discuss some of the best tips on how to crack GRE Exam.
10 Best Tips on How to Crack GRE Exam
Now, you have all the information about different sections of the GRE test and its various tips. Moving further, let's discuss some of the best tips on how to crack GRE exam.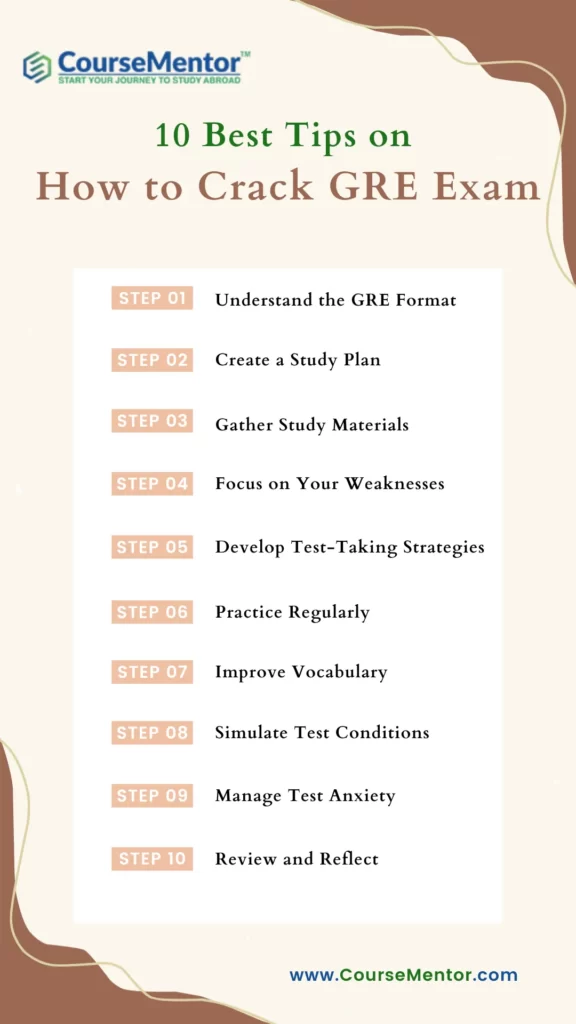 Understand the GRE Format
Before diving into your GRE preparation, the first tip on how to crack GRE exam is to understand the exam's format. The GRE consists of three main sections: Verbal Reasoning, Quantitative Reasoning, and Analytical Writing. We have already discussed these three sections in detail.
Related Article: What Is The GRE Exam Pattern, Syllabus, & Test Duration
Create a Study Plan
Creating a study plan is another tip of how to crack GRE exam. Developing a structured study plan is essential for effective GRE preparation. To do this, consider the following factors when creating your study plan:
Set a realistic timeline: Determine when you plan to take the GRE and work backward to create a study schedule that suits your availability and learning pace.
Allocate time to each section: Distribute your study time evenly among the three sections, giving more weight to your weaker areas.
Include practice tests: Regularly take full-length practice tests to simulate the test-day experience and identify areas for improvement.
You should include all these factors while creating a study plan because this can help you answer how to crack GRE exam.
Gather Study Materials
To excel in the GRE, you'll need the right study materials. Invest in GRE preparation books, online courses, and practice tests from reputable sources. Some popular GRE study resources include The Official Guide to the GRE, Manhattan Prep's GRE series, and Kaplan's GRE preparation materials. Hence, gathering the right study material is another best tip for how to crack GRE exam.
Focus on Your Weaknesses
The other tip of how to crack GRE exam is to focus on your weaknesses. To do this, identify your strengths and weaknesses in each GRE section through practice tests and self-assessment. Furthermore, you can spend more time improving your weaker areas while maintaining your strengths. To improve your weaknesses, you can seek additional resources or professional guidance from the tutors if needed.
Develop Test-Taking Strategies
Developing test-taking strategies is another benefit of how to crack GRE exam. Because mastering test-taking strategies can make a significant difference in your GRE score. Here are some test-taking strategies are given:
Time management: To manage time effectively, you can practice answering questions within the allotted time for each section.
Guess strategically: If you are unsure about an answer, make an educated guess rather than leaving it blank, as there is no penalty for wrong answers.
Use scratch paper: You can utilize the provided scratch paper for calculations and note-taking during the test. Because a note-taking strategy will help you save time while answering the questions.
Read questions carefully: Pay attention to the wording of questions to avoid misinterpretation.
All these strategies, such as managing the time, guessing about an answer, and so on, will help you crack the GRE on the first attempt.
Practice Regularly
Remember that consistent practice is the key to GRE success. One of the best tips on how to crack GRE exam is to practice regularly. To do this, set aside time each day or week for focused practice sessions. Use the official GRE practice tests, available on the ETS website, to gauge your progress and adapt your study plan accordingly.
Improve Vocabulary
Improving the Vocabulary is essential whether you are appearing in any International English Language Exam. Moreover, enhancing the vocabulary in the GRE is crucial for the Verbal Reasoning section. So, to improve your vocabulary you can read extensively, use vocabulary-building apps, and create flashcards to reinforce your word knowledge.
Simulate Test Conditions
As your test date approaches, simulate actual test conditions during your practice tests. For doing the practice, find a quiet environment, use the provided scratch paper, and adhere to the official GRE timing. This tip of how to crack GRE exam will help you manage the time on the test day. Moreover, this will also help you feel more comfortable and confident on test day.
Manage Test Anxiety
Managing test anxiety is very important because if you do your preparation wisely but due to test anxiety, you won't be able to give your 100% in the exam. Due to this, you will not be able to crack the exam more effectively. Well, feeling anxious on test day is normal, but some effective strategies can help you manage it:
Get a good night's sleep before the exam.
Eat a balanced meal to fuel your brain.
To avoid rushing, arrive at the test center early.
Practice relaxation techniques like deep breathing to stay calm during the test.
This is all about some effective strategies that will help you manage your test anxiety.
Review and Reflect
The last tip on how to crack GRE exam is to review and reflect. After completing the GRE, take time to review your performance. Analyze your strengths and weaknesses and consider whether you should retake the exam if your score falls below your target.
So, we have provided all the best tips so that you can crack the GRE exam with full confidence.
Related Article: Preparing for your GRE/GMAT/TOEFL Exam: Strategies for Success
Final Words
To conclude, we can say that cracking the GRE exam requires dedication, preparation, and a strategic approach. In this article, we have discussed the 10 best tips on how to crack GRE exam and GRE section-specific tips. The best tips, such as understanding the test format, creating a study plan, focusing on weak areas, and developing effective test-taking strategies, can maximize your chances of achieving a high GRE score.
I hope all these tips help you in cracking the GRE exam and open your roads to study abroad. Remember that success on the GRE is not just about intelligence; it's also about preparation and determination. If you want to know more about the related content, topic and information, visit CourseMentor again. Till then, good luck on your GRE journey!
Frequently Asked Questions (FAQs)
1. How long does it take to prepare for the GRE?
By implementing the tips that we provided on how to crack GRE exam. It will take you around 4 weeks to 12 weeks to prepare for the GRE. Please note that the time taken by each candidate for doing the preparation varies because it all depends on patience and dedication.
2. What is a Good Score in the GRE Exam?
According to top business schools in foreign countries, the marks above 330 is considered as an excellent score. Well, make your targets high so that you can achieve good scores on the GRE.