What Are the Best Uses Of Python In Machine Learning?
Machine Learning is one of the most exciting trends in recent times. Machine learning patents expanded at a 34 percent rate between 2013 and 2017, according to Forbes, and this is only likely to continue in the future. And for most of the research and development of Machine Learning. Python is the core programming language that is used. As per Github, It is the top programming language for Machine Learning. "So it is clear that it is the most popular from the above discussion, now we will discuss what are the uses of Python in machine learning?"
Stay tuned with us and get a full-fledged answer!
Reasons: Why Python for Machine Learning?
Machine learning (ML) is a programming type that helps computers learn automatically from data supplied to them and benefit from experience without being programmed intentionally.
It is also interchanged with Artificial Intelligence because of the above smart feature of Machine Learning (AI). Still, to be correct, ML is only a subset of artificial intelligence. Machine Learning has used AI based on the assumption that computers need to be allowed access to data in order for them to understand and interpret it themselves.
What are the uses of Python in Machine Learning?
Every computer programmer and Data scientist preferred Python for machine learning because of its easily readable syntax. It has a huge library of tools that make it convenient to implement in machine learning and data science. There are several uses of python in machine learning, Here are some libraries of python that can be used to implement Machine learning.
Python Supports Many libraries and frameworks for Machine learning
It has hundreds of libraries that can be used to perform machine learning tasks. Some of them are mentioned below-
Numpy
It is a library of machine learning. That helps to solve large multi-dimensional arrays and matrices. It can be also used to solve high-level mathematical functions to operate on these arrays. It is simple if Numpy can solve such huge problems. Though Numpy is the starting point of Data Pre-processing and later on implementing ML Algorithms.
TensorFlow
TensorFlow is an open source framework for machine learning that is end-to-end. It has a robust, scalable ecosystem of software, libraries and outreach programs that enables researchers to quickly create and deploy ML driven applications to push the state-of-the-art in ML and developers.
Panda
Pandas is also one of the methods used for data cleaning and analytics in Machine Learning. It has applications that are used for data analysis, cleaning, transition and visualisation. It offers fast, versatile and articulate structures of data
These are some libraries of Python that are widely popular for the implementation of machine learning. –
Python in Machine Learning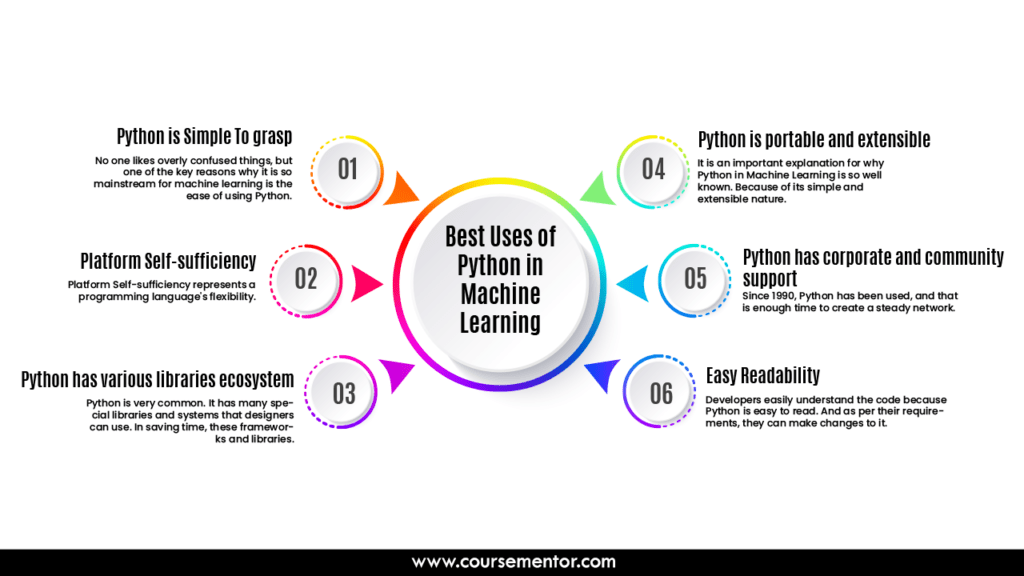 1. Python is Simple To grasp
No one likes overly confused things, but one of the key reasons why it is so mainstream for machine learning is the ease of using Python. An efficiently simple sentence syntax is the reason that engineers liked it so much. Python's effortlessness means that engineers will focus on solving the Machine Learning problem rather than spending all their time seeing just the specialized subtleties of the language.
2.Platform Self-sufficiency
Platform Self-sufficiency represents a programming language's flexibility. It refers to the framework or programming language that helps the designer implement and use it on one PC.
Python is a language that is platform free. Several stages, like LINUX, macOS, and Windows, support this. Additionally, with every standard operating system, the Python code allows executable programs. These frameworks would also not require Python mediators to use the code or execute it. Also, it reduces the cost of preparing the ML model and sets it to save your cash.
3. Python has various libraries ecosystem
Python is very common. It has many special libraries and systems that designers can use. In saving time, these frameworks and libraries are incredibly useful, which also makes Python more popular.
There are various Python libraries that are especially useful for artificial intelligence and machine learning. We explained some Python libraries for machine learning above and you can go through them.
4. Python is portable and extensible
It is an important explanation for why Python in Machine Learning is so well known. Because of its simple and extensible nature, many cross-language tasks can be done easily on Python. Various data researchers use Graphics Processing Units (GPUs) on their machines to plan their ML models, and Python's handy concept is suitable for this.
Similarly, Python is supported by a wide variety of platforms. Such as Windows, Linux, Macintosh, and Solaris, etc. Furthermore, because of its extensible nature, Python can also be combined with C/C++, .NET components, and Java libraries.
5. Python has corporate and community support
Since 1990, Python has been used, and that is enough time to create a steady network. Python scholars will enhance their Machine Learning skills because of this help without any difficulty. That is why its popularity is increasing. It is one of the main uses of Python in machine learning.
Also, Corporate support is an important part of the achievement of Python for ML. For example, various topmost companies, such as Quora, Google, Netflix, Facebook, Instagram, and so on, apply Python for their items.
6 Easy Readability
Developers easily understand the code because Python is easy to read. And as per their requirements, they can make changes to it. Furthermore, the chance of mistakes, confusion, and conflict is almost zero. Through it, the professional effectively exchange the tools, ideas, and algorithms with others.
Concluding words
From the above points, now you understand the uses of Python in machine learning. In machine learning, Python has been the first choice of programmers. Python services are ideal for ML developers. Using Python if you are developing software in ML. This language's reliability is stronger than in others. It is simple to use and grasp, as well. So, for ML, it has become a popular alternative.