In the ever-evolving landscape of technology, a master's in computer science is a key to unlocking a world of opportunities. Among global destinations for higher education in this field, Canada stands out as an exceptional choice.
Do you know why? Because more than 50 universities in Canada offer masters in computer science for international students. Moreover, the course spans 16 to 24 months in Canada after completing your studies. The best part is that you can gain a post-study work permit that will allow you to work in Canada and gain experience.
You might be thinking about the various universities offering masters in computer science in Canada, the career opportunities after studying this course in Canada, etc. So let's dive into the article because, in this blog, we will explore the study of a masters in computer science in Canada for international students.
An Overview of Masters in Computer Science in Canada
Here is a brief overview to help you understand pursuing a masters in computer science in Canada.
Type of Program
Full-time
Duration of Course
1-2 years
Course Degree List
MSc in Computer Science
MASc in Computer Science
Masters in Computer Science
MA in Computer Science
MS in Computer Science
Course Curriculum
Data Analytics
Software Engineering
Applied Mathematics
Data Structure
Robotics
Graphics Animation
Quantum Computing
Cryptography
Course Specialization
Artificial Intelligence
Data Science
Data Analytics
Robotics
Human-Computer Interaction
Cloud Computing
Software Engineering
Programming
Machine Learning
Why Study Masters in Computer Science in Canada?
Studying for a Masters in Computer Science in Canada offers many advantages. Due to this, it makes an attractive option for international students.
Below are some compelling reasons to consider pursuing this advanced degree in the Canadian academic landscape: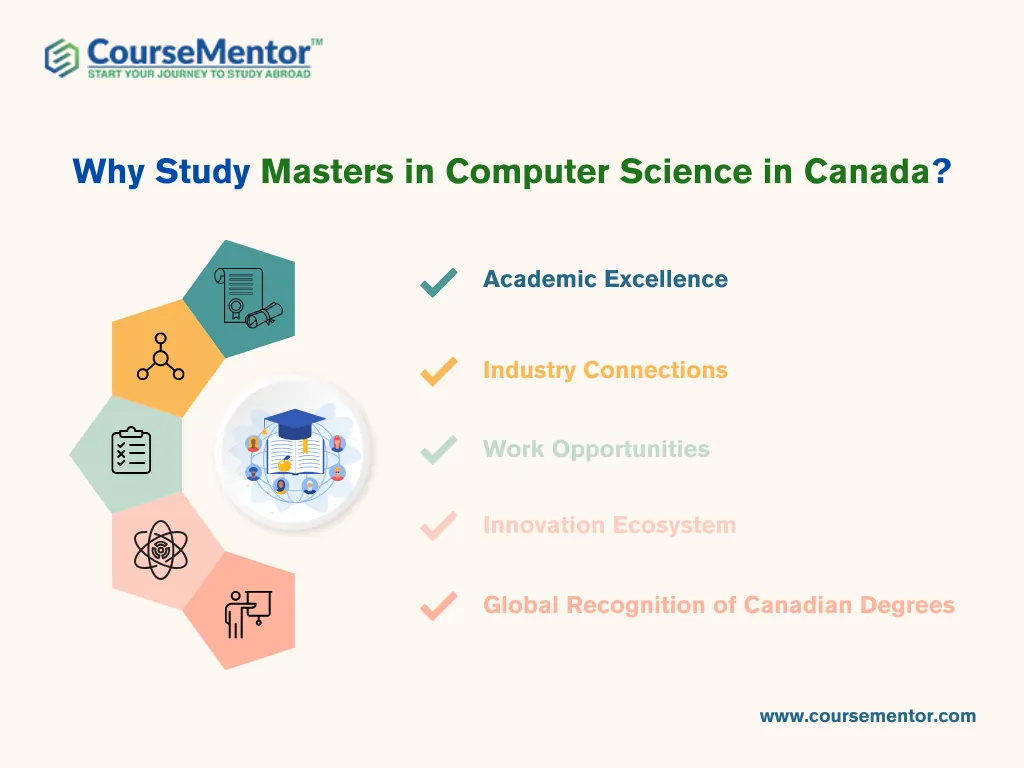 1. Academic Excellence
Canadian universities consistently rank high globally, offering cutting-edge programs in computer science. Ensuring that graduates are well-prepared to meet the demands of the rapidly evolving tech industry.
2. Industry Connections
Canada has a thriving technology sector, with companies ranging from established giants to innovative startups. Many universities have strong ties with industry leaders, providing students with networking opportunities, internships, and potential job placements.
3. Work Opportunities
Canada has a favorable immigration policy for international students, allowing them to work part-time during their studies and full-time during scheduled breaks. After completing their degrees, graduates can work in Canada for up to three years.
4. Innovation Ecosystem
Canada is a hub for technological innovation, particularly in fields such as artificial intelligence, machine learning, and software development. This ecosystem exposes students to the latest trends and advancements in the field.
5. Global Recognition of Canadian Degrees
A Master's degree in Computer Science from a Canadian institution is globally recognized and respected. Graduates find themselves well-positioned for opportunities not only in Canada but also in other tech hubs around the world.
So, all these reasons compel international students to study masters in computer science in Canada. Moving further, let's explore the universities offering these degree programs to students.
Related Article: 50+ Cheapest Colleges in Canada for International Students
Universities Offering Masters in Computer Science in Canada
Now, you are equipped with the reasons that compel international students to study computer science in Canada. Moving further, you might want to know the best universities in Canada that offer master's in computer science programs to international students.
The table includes the list of universities and their average tuition fees:
University of Toronto
University of British Columbia
University of Waterloo
McGill University
University of Alberta
University of Calgary
University of Ottawa
Simon Fraser University
University of Victoria
University of Saskatchewan
Carleton University
Dalhousie University
University of Manitoba
Ryerson University
Memorial University of Newfoundland
Queen's University
University of Guelph
University of Windsor
Concordia University
Apart from the above-listed universities in Canada. The various universities that offer masters in computer science in Canada without GRE requirements are Brock University, Laval University, Regina University, etc.
Documents required to Study Masters in Computer Science in Canada
To apply to the various Canadian universities offering international students computer science programs. You must typically submit some documents to the respective university's admission office.
Here is an image showing a list of commonly required documents: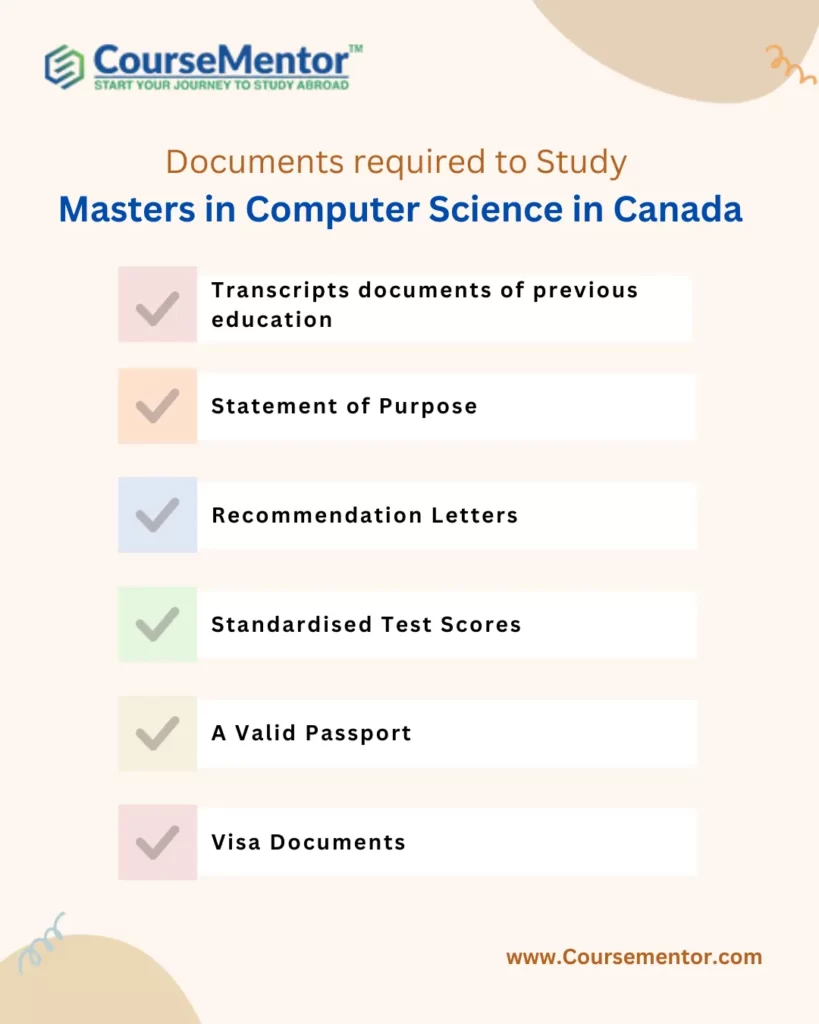 Career Prospects after Completing Masters in Computer Science in Canada
As we know, many universities in Canada offer computer science programs. Thus, to study at top Canadian universities, international students pursue their degree in Computer Science in Canada. After completing their studies, graduates get high-paying job roles in Canada.
The various career opportunities available for international students in Canada are as follows:
Software Developer/Engineer
Graduates can work as software developers, designing, coding, testing, and maintaining software applications. This role is in high demand across finance, healthcare, and technology industries.
Data Scientist/Analyst
Analyzing and interpreting complex data sets is crucial for businesses. Data scientists and analysts are responsible for deriving insights and making data-driven decisions.
Machine Learning Engineer
With the growing importance of artificial intelligence and machine learning, engineers in this field are in high demand. They work on developing algorithms that enable machines to learn and make predictions.
Also Read: Best Courses to Study in Canada for International Students
Cybersecurity Analyst
As cyber threats increase, there is a growing need for professionals who can protect systems and networks. Cybersecurity analysts are responsible for ensuring the security of digital information.
Cloud Solutions Architect
With the increasing adoption of cloud computing, architects design and implement scalable and secure cloud infrastructure for businesses.
Database Administrator
Managing and organizing data efficiently is crucial for organizations. Database administrators ensure databases are secure, available, and performing optimally.
Business Intelligence (BI) Analyst
BI analysts use data analysis tools to help companies make informed business decisions. They transform raw data into actionable insights for strategic planning.
IT Project Manager
If an international student goes for the IT Project Manager role. Then they have to oversee the planning, execution, and completion of IT projects. This role involves coordinating teams, managing resources, and ensuring projects meet deadlines and objectives.
Mobile Application Developer
With the increasing use of smartphones, mobile application developers create applications for iOS, Android, and other platforms.
Game Developer
Those with a passion for gaming can pursue a career in game development, creating interactive and engaging gaming experiences.
Quality Assurance (QA) Engineer
QA engineers ensure software products meet quality standards by testing and identifying bugs or issues before release.
User Experience (UX) Designer
An international student can also grow their career as a User Experience designer. They will have to focus on creating intuitive and user-friendly interfaces for software applications, websites, and other digital products.
Also Read: 7 Best Countries to Study Hotel Management Abroad in 2024
Top Companies Recruiting Computer Scientists in Canada
Now, you are equipped with all the information on the career opportunities students get after completing masters in computer science in Canada. Moving further, the various top companies that recruit international students who are fresher in the computer science field are as follows:
| | |
| --- | --- |
| Top Companies | Average Salaries (in CAD) |
| HSBC | 91,000 |
| Deloitte | 86,000 |
| BMO Financial Group | 81,000 |
| Credit Suisse | 122,800 |
| Accenture | 81,000 |
| IBM | 91,000 |
| National Bank of Canada | 98,000 |
| Norton Rose Fulbright | 86,000 |
Final Words
In conclusion, pursuing a Masters in Computer Science in Canada offers a transformative academic experience within a vibrant and innovative environment. With access to cutting-edge research opportunities, diverse cultural exposure, and a globally recognized education system, graduates emerge well-equipped to thrive internationally in the dynamic field of computer science.
Moreover, many universities in Canada offer computer science degrees to international students, as discussed above. In the end, we have also discussed the career opportunities available for students and the top companies recruiting fresh grads of the computer science field.
So, without any delay, plan to study masters in computer science in Canada. In addition, if you need any career guidance and visa-related services, you can consult our experts for free guidance. Until then, remember to revisit to learn more about studying abroad
Frequently Asked Questions
Is Canada a good option for pursuing a Master's in Computer Science?
Yes, Canada is an excellent option for pursuing a Master's in Computer Science. Renowned for its high-quality education, diverse culture, and strong emphasis on research, Canadian universities offer a welcoming environment for international students, coupled with networking and industry engagement opportunities.
What are the universities offering masters in computer science in Canada?
Selecting the best university for an MS in Computer Science in Canada depends on individual preferences and goals. However, renowned institutions like the University of Toronto, the University of British Columbia, and McGill University are often considered top choices, offering high-quality programs and diverse research opportunities.
Is IELTS enough for studying Computer Science in Canada?
While IELTS is typically required for admission to Canadian universities, studying Computer Science may also necessitate additional prerequisites such as standardized tests (e.g., GRE), academic qualifications, and a strong background in relevant subjects. It's crucial to check the specific admission requirements of the chosen university for accurate information.